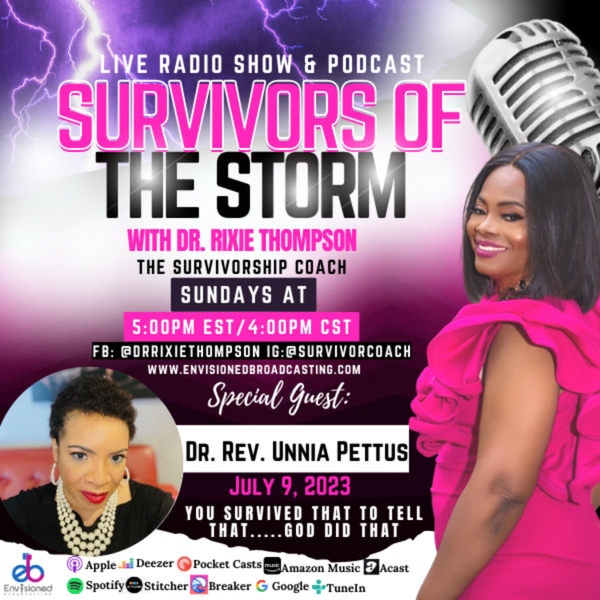 The topic of this episode "She's Built For The Storm" is the perfect title for my Special Guest because she makes a storm look easy to weather. In actuality the many storms she encountered were far from easy but she came through like a true champion. Special Guest Rev. Dr. Unnia Pettus survived a very horrific case of domestic violence from her husband who was her pastor. She defeated four battles against four types of cancer. She was bombarded with one storm after another but she was equipped and built for each storm. Tune in to this episode to learn how she was prepared and built for each storm.
Rev. Dr. Unnia Pettus is the Founder and CEO of Nobody But God Ministries and Pettus PR LLC, both located in Washington, DC. She is the author of Nobody But God: A Journey of Faith From Tears to Triumph and Co-author of Mr. President: Interfaith Perspectives on the Historic Presidency of Barack Obama. Dr. Pettus is an Inspirational Speaker who shares her experiences as an Overcomer. Watch for the launching for her new book entitled, FAITH-i-tude - developing faith that gets God's attention. She has received numerous awards for her outstanding services rendered to her community.
Find out more about Dr. Pettus by visiting her Facebook at https://www.facebook.com/drunniapettus or email her at [email protected].
Survivors Of The Storm
You Survived That To Tell That ...God Did That! This show will be emerging powerful testimonies of those who have survived a storm and now wants to give God the glory by speaking out loud. This show will provide the listening audience with spiritual keys and powerful weapons for surviving the storms of life. Don't fear the storm instead be the storm! Come aboard the Survivor-"ship" and sail with the Survivorship Coach.