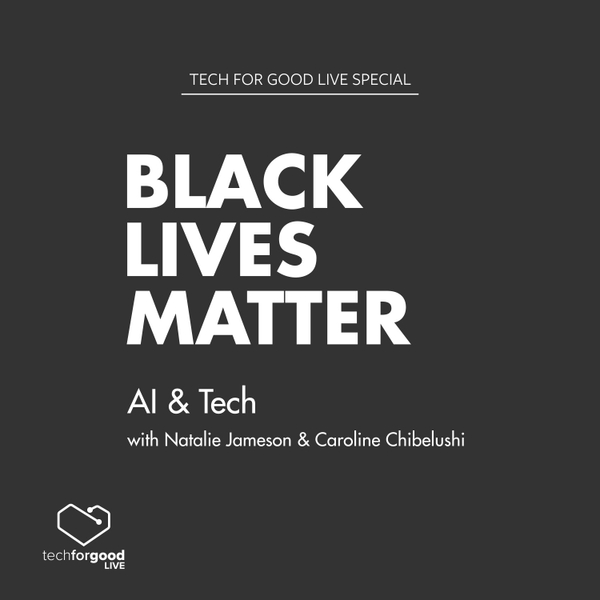 Tech for Good Live
Black Lives Matter Special - AI & Tech with Natalie Jameson & Caroline Chibelushi
Welcome to a special edition of the Tech For Good Live podcast, in support of the Black Lives Matter movement.
As the wave of historic protests that rippled across the world in the wake of the barbaric public execution / murder of George Floyd by police continue, Tech For Good Live is using their platform to make a stand united in solidarity with Black Americans and global citizens to reignite and reinforce an argument around AI and the Technologies baked in bias, accuracy and ethics in the AI systems
Artificial intelligence holds a lot of promise to revolutionise our lives. Still, there's a dark side to the technology that could not only hinder progress on critical equality issues but also exacerbate them.
In this episode, Natalie Jameson, Innovation Lead at The Landing, is in conversation with Dr. Caroline Chibelushi, specialist in Artificial Intelligence at the Knowledge Transfer Network, discussing what needs to change to make this technology inclusive.
 Links mentioned in the episode:
You can apply for the GQHQ innovation co-lab at www.thelanding.org.uk/gchq-innovation-co-lab/ 
To find out more about Black Lives Matter, to support the movement or to download helpful resources, visit www.blacklivesmatter.com.
----------------------------
We'd love to hear your thoughts. Get in touch on twitter @techforgoodlive or Email at [email protected] 
We'd love it if you gave us a nice iTunes review and told your mates about this podcast!
If you want to get more involved in our community, you can join our Slack channel or sign up to our newsletter. Just visit TechforGood.Live to find out how.
Thanks to the wonderful podcast.co for hosting our podcast on their podcast platform.
Tech for Good Live
From rampant AI's and gamification to social fundraising and new ways of donating. Join us on a meandering ramble through the ever changing landscape of tech that makes the world a better place.