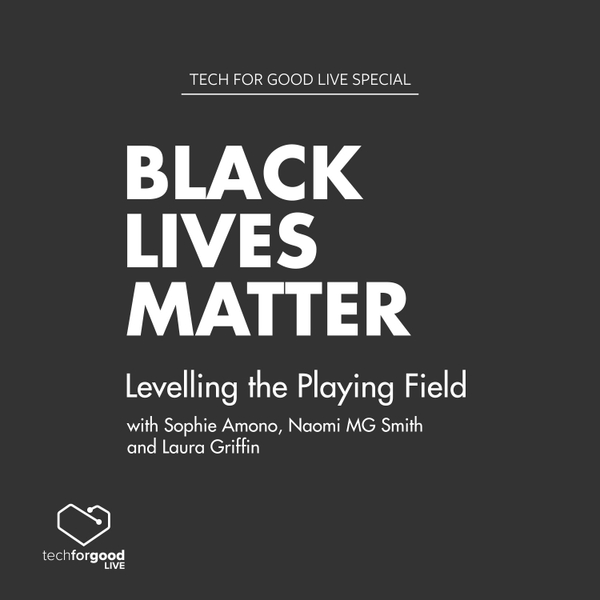 Tech for Good Live
Black Lives Matter Special - Levelling the Playing Field with Sophie Amono, Naomi MG Smith & Laura Griffin
Episode Info
Welcome to a special edition of the Tech For Good Live podcast, in support of the Black Lives Matter movement.
We are past the halfway point of 2020, a year that has transformed much of our lives. In this episode Sophie Amono, Laura Griffin and Naomi MG Smith, discuss everything to do with design and technology, PR & Communications and how social media and tech can be used to further brand messages with a great ethos at the core of them.
Sophie is the founder of Edinburgh based social media agency Stuffs; a female led creative studio that produces social media campaigns for brands across the UK and Europe.
Laura Griffin is a creative thinker with a strategic mindset. An alumni of Edinburgh College of Art, her work experiences have taken her as far as Amsterdam, Hong Kong and New York. She now specialises in creative strategy for brands with a focus in digital.
Naomi is a PR and communications professional.
Naomi is participating in the Jolt NAMBA programme, and has recently launched her new blog - CommsLabHQ which aims to inspire the next generation of Black, BAME and underrepresented PR practitioners.
To find out more about Black Lives Matter, to support the movement or to download helpful resources, visit www.blacklivesmatter.com.
----------------------------
We'd love to hear your thoughts. Get in touch on twitter @techforgoodlive or Email at [email protected] 
We'd love it if you gave us a nice iTunes review and told your mates about this podcast!
If you want to get more involved in our community, you can join our Slack channel or sign up to our newsletter. Just visit TechforGood.Live to find out how.
Thanks to the wonderful podcast.co for hosting our podcast on their podcast
Powered by