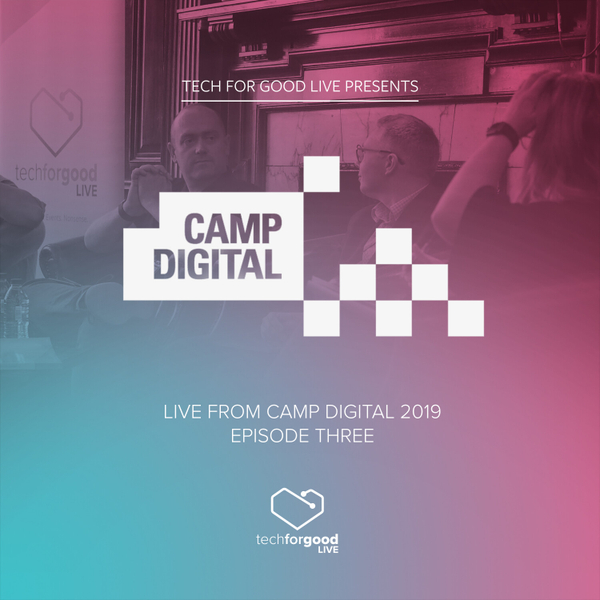 Tech for Good Live
Live from Camp Digital 2019 - Episode 3 - Panel with Cennydd Bowles and Matt Edgar
We're back at Camp Digital and here is the final episode of our three special podcasts recorded live in Manchester's Royal Exchange Theatre.
Hosted by Rebecca Rae-Evans, Activist, strategist, commentator & account manager at Sigma. She's joined by podcast regular Ben White , Director at social enterprise Reason Digital.
Joining them for a deep dive into some of the topics raised throughout Camp Digital 2019 are Cennydd Bowles and Matt Edgar. They discuss the latest news, trends and controversies in ethical tech.
Cennydd Bowles is a London-based designer and writer with fifteen years of experience advising clients including Twitter, Ford, Cisco, and the BBC. His focus today is the ethics of emerging technology. He has lectured on the topic at Facebook, Stanford University, and Google, and is a sought-after speaker at technology and design events worldwide. His second book, Future Ethics, was published in 2018.
You can find him on Twitter @Cennydd
Matt Edgar is head of design for NHS Digital and his focus is on digital services for NHS patients, carers and the public, while developing designers and the design profession across the whole organisation.
Matt previously spent 5 years as a service designer, digital coach, and founder of service design and innovation consultancy Stick People. He developed the GDS Service Manager Programme, and coached in the DWP Digital Academy.
His service design clients included the Co-op, NHS organisations, and local government.
You can find him on Twitter @mattedgar
This podcast is possible thanks to the support of Podcast.co, The Federation supported by Luminate and The Co-op Foundation.
And our June sponsor OneSub - they're crowdfunding to break the echo chamber giving you instant access to a difference of opinion and helping you get a balanced view of the world. To find out more, go to https://onesub.io/crowd
Find more from the Tech For Good Live team @ techforgood.live
Tech for Good Live
From rampant AI's and gamification to social fundraising and new ways of donating. Join us on a meandering ramble through the ever changing landscape of tech that makes the world a better place.