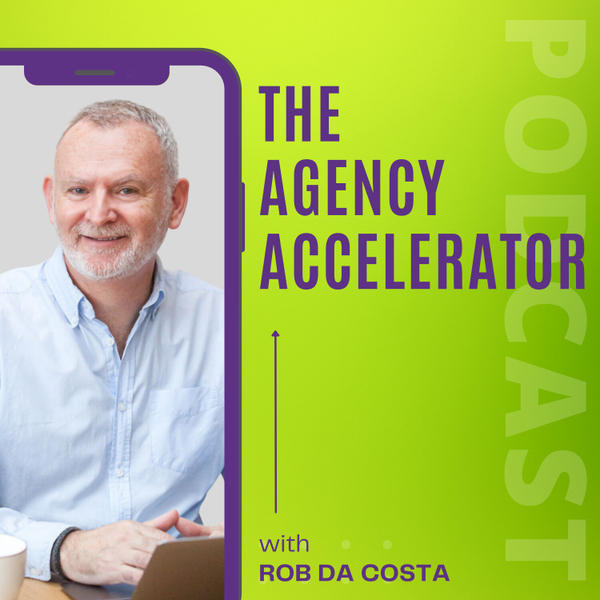 The Agency Accelerator
Building an Agency with an Entrepreneurial Mindset, with Kevin Urrutia
S2E95
34:08
November 25th 2021
In this week's episode of The Agency Accelerator Podcast, I am joined by Kevin Urrutia.
Kevin started out as a software developer and moved into eCommerce, starting Chester Travels (selling suitcases), growing to $1.5 million in 18 months. He also started a home cleaning business which he grew to $3 million in 18 months. He now runs a digital agency, Voy Media.
And if that wasn't enough, he is also the co-author of 'Digital Marketing Made Easy: A-Z Growth Strategies and Key Concepts of Digital Marketing.'
In this episode, Kevin shares his journey from entrepreneur to growing and selling a business. We also explore what drove him to transition into the world of digital marketing, the best tips he could give aspiring entrepreneurs, and how having the right mindset will help you grow your agency.
Make sure to grab a pen and paper for another action-packed episode with Kevin Urrutia.
Time Stamp
[2:30] What drove Kevin to transition from technology and entrepreneurship to digital marketing
[3:11] The importance of having the right mindset
[3:28] Understanding how and why Kevin started various businesses
[5.29] Overcoming hurdles at different stages of growth
[6:46] Why having your systems in place is essential for sustainable growth
[7:10] How finding the right people has changed in midst of the pandemic
[9:20] Dealing with the shortage of great marketing people
[11:33] The battle of keeping your clients happy without overservicing - don't be a charity!
[13:09] What are the early stage hurdles for start-up agencies? 
[16:08] Why having a sales process is so important for a growing agency
[18:56] Sales strategies to win more clients (without relying on referrals and word of mouth)
[20:56] The importance of building your brand: 'Am I building the brand as me? Or am I building the brand as a bigger business? 
[24:06] The deciding factors and key advice in selling an agency
[26:25] How to achieve a 'good entrepreneurial mindset'
[30:10] The biggest trends and future predictions of digital marketing 
[31:58] Kevin's advice to his younger self
Quotations
"I've always wanted to do my own thing, and that has always driven me. It's like that concept of 'Hey, I'm my own boss. I have my own things and building my own like products or companies.'" - Kevin Urrutia
"I always say that clients are the spark that gets their business going, but they also become the roadblock to growth in the end because they kind of have to get out of their own way. And they've got to realise that other people, they need to let other people do the work and other people may not do it as well as them or in the same way as them, and that's okay." - Rob Da Costa
"To have an entrepreneur mindset, you have to be willing to just try new stuff." - Kevin Urrutia
"Don't be scared of failing, because we all fail in order to move forwards." - Rob Da Costa
Rate, Review, & Subscribe on Apple Podcasts 
"I enjoy listening to The Agency Accelerator Podcast. I always learn something from every episode." If that sounds like you, please consider the rating and review my show! This helps me support more people — just like you — move towards a Self-Running Agency.
Scroll to the bottom, tap to rate with five stars, and select "Write a Review." Then be sure to let me know what you loved most about the episode!
Also, if you haven't done so already, subscribe to the podcast. I'm adding a bunch of bonus episodes to the feed and, if you're not subscribed, there's a good chance you'll miss out. Subscribe now!
Useful links mentioned in this episode:
The Agency Accelerator
Busy agency owners can have a hard time balancing delivering exceptional work with finding ideal new clients - all the while, ensuring the smooth running of their agency.
Every 2nd Thursday, join Rob Da Costa, agency owner and coach, as he explores the key topics that affect you and your agency. I share tools and ideas to aid your profitable growth as well as interview industry expert guests, who share their experiences of working in or with agencies just like yours.
Whether you are just starting out or run an established growing agency, whether you run an online or bricks & mortar agency, this is the podcast for you.
To learn more about Rob, his coaching and training, visit the website