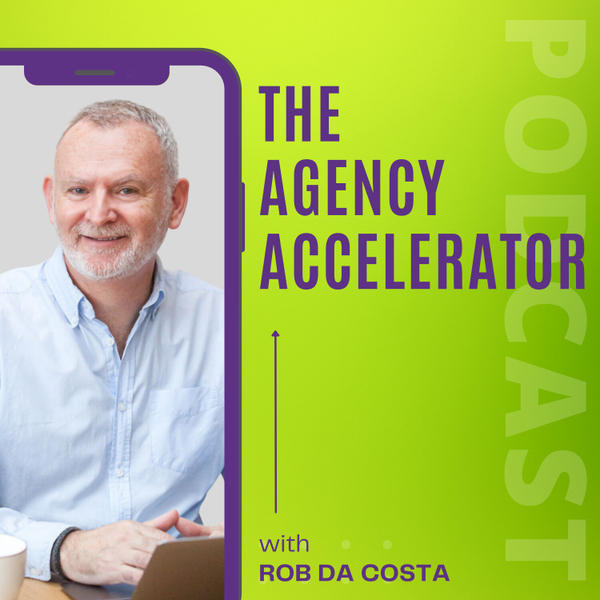 How agencies use outbound marketing and business development to accelerate their growth.
That's what we're talking about in this week's episode of The Agency Accelerator Podcast. 
I'm really excited to have Christian Banach to join me today on this episode because he has a different view from mine about lead generation and business development. 
One of the reasons why I love having guests on the podcast is because I don't always agree with them or I don't always have the same viewpoint. But at the end of the day, their viewpoints are valid and clearly working for them and their customers.
So today we are discussing and debating outbound lead generation, cold calling, cold emailing and more. So, make sure you grab a pen & paper since there are some great advice and action point takeaways. 
Time Stamp
[2:03] How Christian transitioned from being a concert promoter to the agency world and how his businesses have developed throughout the years
[4:17] Working with giant brands such as Allstate and Toyota 
[5:12] Christian's perspective about word of mouth marketing
[6:48] Tips in dealing with new clients
[8:12] Why it is so critical to identify your niche
[10:04] How a cold calling outbound communications strategy works
[12:04] Why multi touch points and channels are important
[13:07] How to use personalisation marketing strategies
[15:11] Understanding clients' businesses and the best lead generation practices
[18:54] The importance of nurturing your own network first
[20:33] Is hiring an in-house business development person for SMEs necessary?
[23:47] How the Pandemic has affected the business development landscape over the years
[28:35] Three (3) business development tips to improve your relationship generation
[30:36] Christian's advice to his younger self
Quotations
"One of the first things that we do with our clients is to audit their body of work and try to understand what we call a 'pivotal problem'." - Christian Banach
"You need multiple touches in order to really start to build awareness and get people to respond. So, multi-touch multi-channel is very important. " - Christian Banach
"It's interesting that sometimes people are looking for the juicy fruit at the top of the tree for their new clients. But meanwhile, there's some ripe fruit that's fallen on the ground that they could be nurturing." - Rob Da Costa
Rate, Review, & Subscribe on Apple Podcasts
"I enjoy listening to The Agency Accelerator Podcast. I always learn something from every episode." If that sounds like you, please consider rating and reviewing my show! This helps me support more people — just like you — move towards a Self-Running Agency.
Scroll to the bottom, tap to rate with five stars, and select "Write a Review." Then be sure to let me know what you loved most about the episode!
Also, if you haven't done so already, subscribe to the podcast. I'm adding a bunch of bonus episodes to the feed and, if you're not subscribed, there's a good chance you'll miss out. Subscribe now!
Useful links mentioned in this episode:
The Agency Accelerator
Busy agency owners can have a hard time balancing delivering exceptional work with finding ideal new clients - all the while, ensuring the smooth running of their agency.
Every 2nd Thursday, join Rob Da Costa, agency owner and coach, as he explores the key topics that affect you and your agency. I share tools and ideas to aid your profitable growth as well as interview industry expert guests, who share their experiences of working in or with agencies just like yours.
Whether you are just starting out or run an established growing agency, whether you run an online or bricks & mortar agency, this is the podcast for you.
To learn more about Rob, his coaching and training, visit the website