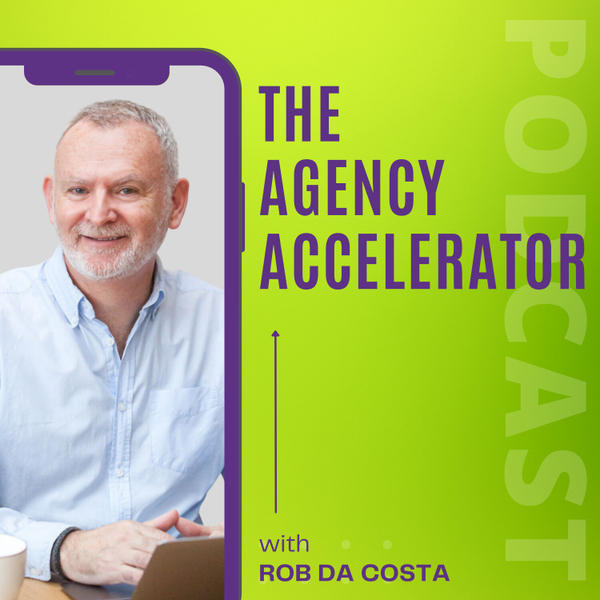 The Agency Accelerator
Podcast Guesting as a Marketing Strategy for Agency Owners with Alex Sanfilippo
S3E110
31:03
March 24th 2022
In part 2 (of 3) of this special series on podcasting we are discussing why guesting on other people's podcasts is such a smart marketing strategy. Alex Sanfilippo joins me to explore how to identify and approach podcasts that you would love to guest on, as well as some Do's and Don'ts. I learned a lot during this interview so I know you will too!
Time Stamp
[01:30] Introduction to Alex Sanfilippo
[03:08] Why is guesting on other people's podcasts a good marketing strategy? And why are many big brand social media platforms jumping on the bandwagon?
[04:45] Why do people listen to podcasts?
[05:55] How do you find podcasts to potentially guest on? Find your WHY first
[07:41] Where to find podcasts to reach out to
[08:40] Talk to your customers about what they listen to
[09:13] Some Do's and Don'ts of reaching out to podcasts you'd like to guest on
[09:58] 1. Lead with value
[10:58] 2. Make a meaningful request with clarity of what you can add
[13:04] 3. Offer credibility (e.g. mutual connections)
[13:35] 4. Mention you will share the episode
[14:02] 5. Make it easy to say NO (to ensure you hear back)
[15:15] Do your research first!
[18:41] Make sure your bio is relatable to the audience the podcast targets
[20:47] How do you measure the success of a podcast?
[23:38] Podcasts are great for building KNOW-LIKE & TRUST
[25:30] Create an intentional plan when starting out in your podcasting journey
[26:40] Services to support with podcast guesting
[28:17] What advice would you give your younger self, just starting out in business?
[23:38] 
Quotations
"Know your WHY first, before you start reaching out to podcasts to guest on" - Alex Sanfilippo
"Lead with value first - be a person of value not of profit!" - Alex Sanfilippo 
"Podcasting is about creating legacy rather than instant wins" - Rob Da Costa
Rate, Review, & Subscribe on Apple Podcasts
"I enjoy listening to The Agency Accelerator Podcast. I always learn something from every episode." If that sounds like you, please consider rating and reviewing my show! This helps me support more people — just like you — move towards a Self-Running Agency.
Scroll to the bottom, tap to rate with five stars, and select "Write a Review." Then be sure to let me know what you loved most about the episode!
Also, if you haven't done so already, subscribe to the podcast. I'm adding a bunch of bonus episodes to the feed and, if you're not subscribed, there's a good chance you'll miss out. Subscribe now!
Useful links mentioned in this episode:
The Agency Accelerator
Busy agency owners can have a hard time balancing delivering exceptional work with finding ideal new clients - all the while, ensuring the smooth running of their agency.
Every 2nd Thursday, join Rob Da Costa, agency owner and coach, as he explores the key topics that affect you and your agency. I share tools and ideas to aid your profitable growth as well as interview industry expert guests, who share their experiences of working in or with agencies just like yours.
Whether you are just starting out or run an established growing agency, whether you run an online or bricks & mortar agency, this is the podcast for you.
To learn more about Rob, his coaching and training, visit the website