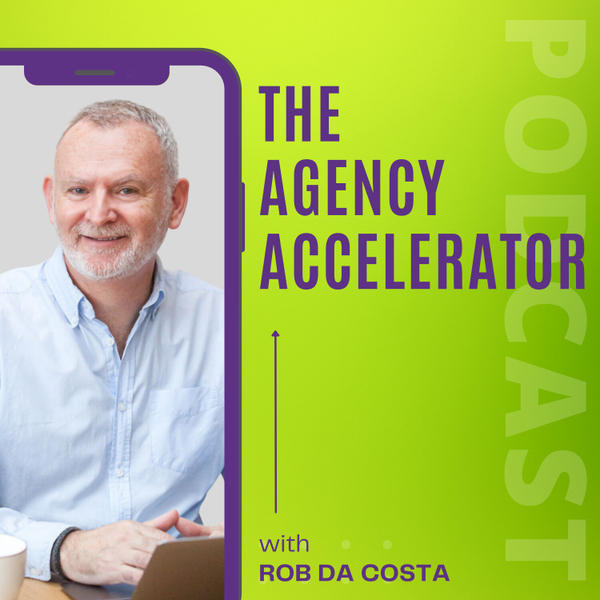 The Agency Accelerator
Using A Lead Magnet To Get New Subscribers To Your Mailing List
S2E79
17:46
August 5th 2021
Any of you who listen to my podcast regularly will know that when I have a guest, I ask them what advice they would give their younger selves just starting out in business if they could go back in time. 
Now some of you have asked me, "well Rob what would you say to your younger self?" So, the piece of advice I would give my younger self is to start building my email list as soon as I started my business. If I had figured that out earlier, I would have a much bigger list now. And more importantly, I would have a much bigger pool of ideal target customers to nurture and 'fish' from. 
So in today's episode of The Agency Accelerator podcast, I want to revisit one of my favourite topics because it's one of the most valuable things you can do in your agency and talk about the importance of building your mailing list, and more specifically, how to get new subscribers to join your list. 
Now I've spoken about the importance of building your list before (in episodes 5 and 30), but today I want to dig in to specifically discuss how you can get more subscribers.
Time Stamp
[0:14] What advice would I give my younger self if I could go back in time?
[2:43] The importance of building a mailing list
[3:40] What is the best structure for an email?
[4:04] How to win new clients
[4:55] Understanding the value of a 'lead magnet'
[8:00] What is the best place to get people to start engaging with your lead magnet?
[8:56] An overview of how a sales page works
[10:34] The components of an email automation system
[14:39] How to set up a sequence of emails in an email automation system?
Quotations
"Every business will have two or three marketing activities that work well for them and deliver good results." - Rob Da Costa
"..the bigger the list, the more value you will get from it. And communicating regularly with your list means that you're keeping your list clean and you are keeping them connected with your agency." - Rob Da Costa
"Remember, your goal with these emails is to nurture them through the sales funnel so that you can identify your five-star prospects (your hot prospects) and start having a more personalised engagement with them." - Rob Da Costa
Rate, Review, & Subscribe on Apple Podcasts
"I enjoy listening to The Agency Accelerator Podcast. I always learn something from every episode." If that sounds like you, please consider rating and reviewing my show! This helps me support more people — just like you — move towards a Self-Running Agency.
Scroll to the bottom, tap to rate with five stars, and select "Write a Review." Then be sure to let me know what you loved most about the episode!
Also, if you haven't done so already, subscribe to the podcast. I'm adding a bunch of bonus episodes to the feed and, if you're not subscribed, there's a good chance you'll miss out. Subscribe now!
Useful links mentioned in this episode:
The Agency Accelerator
Busy agency owners can have a hard time balancing delivering exceptional work with finding ideal new clients - all the while, ensuring the smooth running of their agency.
Every 2nd Thursday, join Rob Da Costa, agency owner and coach, as he explores the key topics that affect you and your agency. I share tools and ideas to aid your profitable growth as well as interview industry expert guests, who share their experiences of working in or with agencies just like yours.
Whether you are just starting out or run an established growing agency, whether you run an online or bricks & mortar agency, this is the podcast for you.
To learn more about Rob, his coaching and training, visit the website