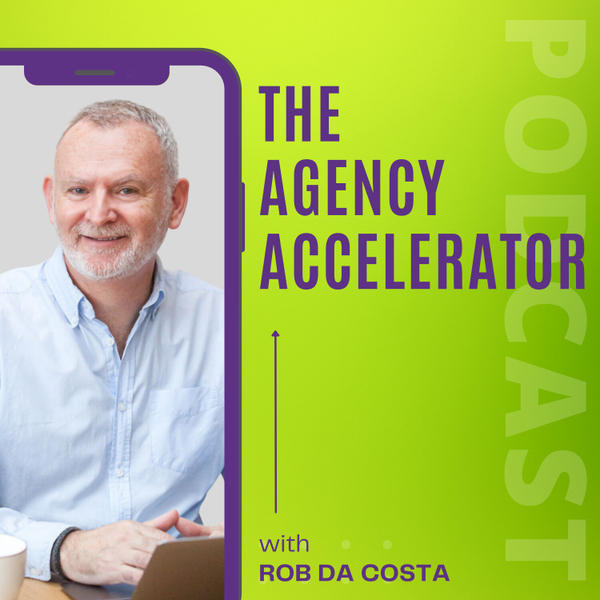 The Agency Accelerator
Using stories and testimonials to bring your marketing to life with Miranda Birch
S2E56
41:21
February 25th 2021
In today's episode of 'The Agency Accelerator Podcast', I get together with Miranda Birch, founder of Miranda Birch Media; a company helping business tell stories to better engage with their clients. Today we talk all about the importance of storytelling in your marketing and also the value of great customer testimonials. This episode is packed with actionable items, so I know you're going to find it really useful and insightful.
Time Stamp
01:22 Miranda Birch introduces herself, her background, and why she loves stories 
03:01 The power of storytelling for agencies wanting to connect with potential and existing clients 
06:07 What makes a good story 
08:17 The role of customer testimonials in an agency's sales process 
13:28 The best format for testimonials 
14:50 How to maximise the value of a video testimonial 
16:14 What point should an agency approach a client for a testimonial 
21:25 What to do when a client does not want their name published in relation to a testimonial 
24:20 The do's and don'ts of getting, interviewing and creating testimonials 
26:15 Miranda's new online courses about testimonials and how to capture stories that convert 
32:38 The benefits of getting in front of the camera 
35:40 Miranda's advice to her younger self starting out in business 
Useful links:
***BRAND NEW AGENCY TRAINING***
3 Sales Strategies That Work!
​​​​​​​How to fill your pipeline with ideal leads in just 90-days
Save Your Seat here: https://buff.ly/3p6lmeG
Useful links:
Attract more clients with 10 minute testimonials with Miranda Birch
Miranda's email series: Pick My Brain
Connect with Miranda on LinkedIn
Download The Self-Running Implementation Book
Download The Lead Generation System Book
Download The Strategic Email Marketing That Gets Results Book
Join my Facebook group 'The Agency Accelerator'
Download the 'Creating A Sustainable & Profitable Agency' book
Subscribe & Review
Are you subscribed to my podcast yet? If you're not, please do so to avoid missing out on any episodes!
You can subscribe/follow on Apple, Spotify or directly from my website.
I would be very grateful if you left me a review too as they will help other people to find my podcasts and it's also great to read your comments!
Thanks so much and see you next week!
Rob
The Agency Accelerator
Busy agency owners can have a hard time balancing delivering exceptional work with finding ideal new clients - all the while, ensuring the smooth running of their agency.
Every 2nd Thursday, join Rob Da Costa, agency owner and coach, as he explores the key topics that affect you and your agency. I share tools and ideas to aid your profitable growth as well as interview industry expert guests, who share their experiences of working in or with agencies just like yours.
Whether you are just starting out or run an established growing agency, whether you run an online or bricks & mortar agency, this is the podcast for you.
To learn more about Rob, his coaching and training, visit the website