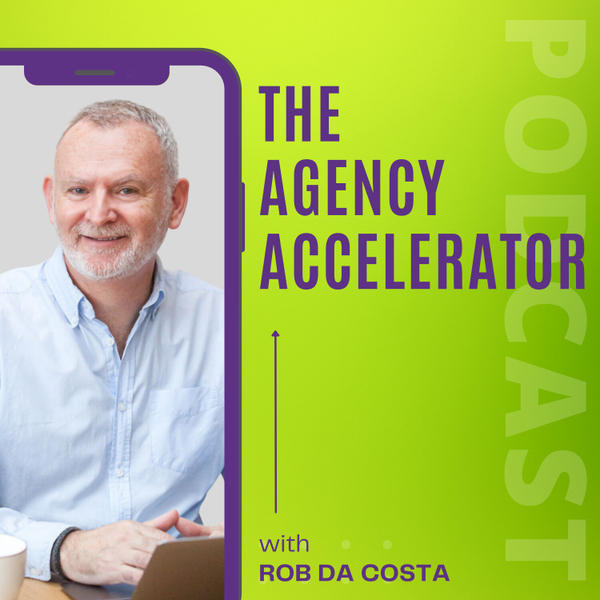 The Agency Accelerator
Using Video Testimonials To Win New Business With Adam O'Leary
S2E82
30:11
August 26th 2021
How powerful are customer video testimonials in helping win new clients?
In today's episode of The Agency Accelerator Podcast, I'm joined by Adam O'Leary from TrustScout. We talked about both his entrepreneurial journey and also the value of getting video testimonials from existing customers to help you win new customers. 
Adam shares some of his experiences and key learnings as he has grown his agencies, including what he believes every entrepreneur should focus on and how to get rid of all that other stuff that can be just a distraction!
We also talked about video testimonials: how to get video testimonials from your customer, when you should ask your customer and why video testimonials are such a powerful way to quickly build trust and credibility.
Time Stamp
[3:38] Adam's journey in the entrepreneurial world
[5:11] The importance of testimonials videos in the buyer's journey
[6:03] The difference between written testimonials and video testimonials
[7:19] The best time to ask your client for a video testimonial
[8:59] Tips on what kind of questions to ask in video testimonials
[10:22] How to maximise the use of video testimonials in your marketing
[11:59] How to make video testimonials authentic
[13:07] How you can use TrustScout software in your agency
[16:23] The good and bad of running an agency
[19:29] How Adam finds the balance in running two businesses
[22:01] The importance of fully automating as much of your business processes as possible
[24:17] Tips in running an agency
[27:51] Adam O'Leary's advice to his younger self
Quotations
" I think what puts people off is they think they have to create highly produced videos. But sometimes the rawer, the more real it looks and therefore people are more likely to believe it." - Rob Da Costa
" There are really only two things in your business that you should focus on:  traffic or sales." - Adam O'Leary
"..try fast and fail fast" - Adam O'Leary
Rate, Review, & Subscribe on Apple Podcasts
"I enjoy listening to The Agency Accelerator Podcast. I always learn something from every episode." If that sounds like you, please consider rating and reviewing my show! This helps me support more people — just like you — move towards a Self-Running Agency.
Scroll to the bottom, tap to rate with five stars, and select "Write a Review." Then be sure to let me know what you loved most about the episode!
Also, if you haven't done so already, subscribe to the podcast. I'm adding a bunch of bonus episodes to the feed and, if you're not subscribed, there's a good chance you'll miss out. Subscribe now!
Useful links mentioned in this episode:
The Agency Accelerator
Busy agency owners can have a hard time balancing delivering exceptional work with finding ideal new clients - all the while, ensuring the smooth running of their agency.
Every 2nd Thursday, join Rob Da Costa, agency owner and coach, as he explores the key topics that affect you and your agency. I share tools and ideas to aid your profitable growth as well as interview industry expert guests, who share their experiences of working in or with agencies just like yours.
Whether you are just starting out or run an established growing agency, whether you run an online or bricks & mortar agency, this is the podcast for you.
To learn more about Rob, his coaching and training, visit the website