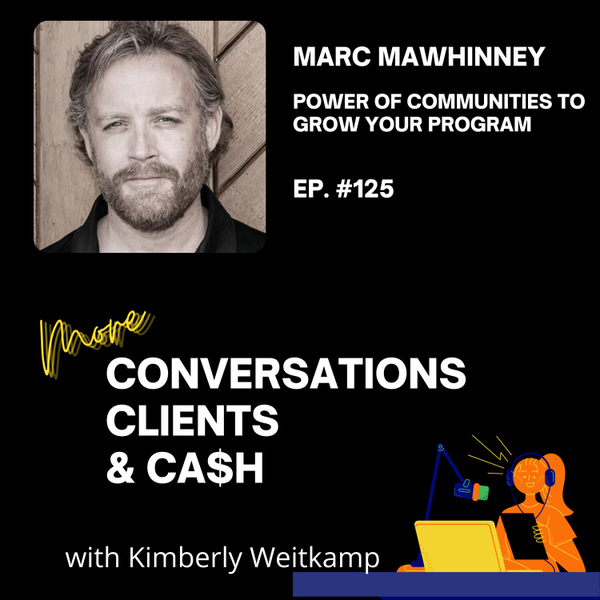 In this episode, Kimberly Weitkamp and Marc Mawhinney discuss the power of using community to grow your coaching practice.
Key Takeaways
[00:01:17] "Organic Client Growth: A Coach's Success Story"
[00:03:22] "The Benefits of Organic Marketing for Starting Coaches
[00:08:23] "Choose Wisely: Finding the Right Online Platform"
[00:11:18] How to Build and Manage a Successful Community
[00:16:54] "The Importance of Consistent Group Engagement Strategies"
[00:23:20] "Fear of Social Media Judgment Holding Back Business"
[00:26:00] "Build Your Coaching Business with Niche Communities"
"If you want to be an expert in something, then you need to build a community around that expertise." -Mark Mawhinney
Website: www.NaturalBornCoaches.com
Gift: www.TheCoachingJungle.Com
Connect with Kimberly
Twitter: @k_weitkamp and @audienceconvert
Facebook: https://www.facebook.com/audienceconverter
Facebook Group: https://www.facebook.com/groups/3275254212546359/
Join the Event: https://theaudienceconverter.com/2-day
More Conversations, Clients and Cash
Would you consider your business the world's best kept secret? More people in the world are looking for your help…trying to find you. If you're a community leader looking to build the right community for you, your cause, and your business...tune in!
Twice a week, join Kimberly, a marketing strategist, copywriter and creator of the Audience Conversion Method. A system designed to help community leaders attract the right people and convert their audiences from strangers to loyal fans.
On this podcast, Kimberly interviews a variety of guests about their wins, victories, overcoming obstacles and all the other parts about creating a well-known business. If you are an entrepreneur, consultant or coach who wants to change the world and level up your business, this is the podcast for you.