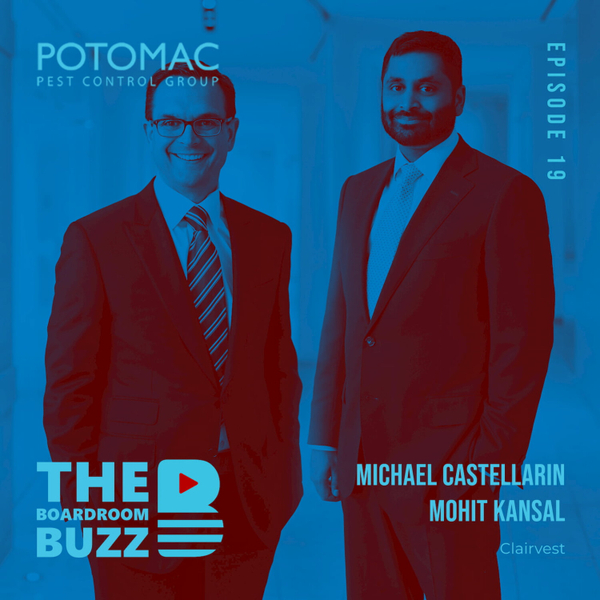 The Boardroom Buzz Pest Control Podcast
Episode 19 — Private Equity in Pest Control: Clairvest's Michael Castellarin and Mohit Kansal Discuss Alternatives to a Change of Control Transaction with a Strategic Acquirer
S1
1:29:17
September 3rd 2020
Private equity has demonstrated increasing interest in the pest control industry. What's the draw for the Clairvest Canuck combo of Michael Castellarin and Mohit Kansal? How much longer must they eagerly wait before the right opportunity presents itself? Now, if only Patrick can properly pronounce their names…
Paul is familiar with private equity's 'second bite of the apple' cliché, but is it appetizing enough for Patrick and his Texas firm? 
How does Clairvest's investment thesis and strategy line up with previous Buzz guest & Wall Street equity analyst Tim Mulrooney's?
If angels endorsed Episode 19, you would hear them singing about Michael Porter soft-circling capabilities to bite apples with synergy during M&A season, and how that affects shareholder goals and objectives who may self-select.
As a side note, Patrick already has plans to chat more with the Clairvest combination to fund his Choctaw Land Casino plans.
Guest Contact Info
Michael Castellarin / [email protected]
Mohit Kansal / [email protected]
The Boardroom Buzz Pest Control Podcast
The Boardroom Buzz, hosted by Patrick Baldwin and Paul Giannamore, is the go-to resource for cutting-edge insight on strategy, valuation and mergers & acquisitions in the service industry.
Presented by the Potomac Pest Control Group.