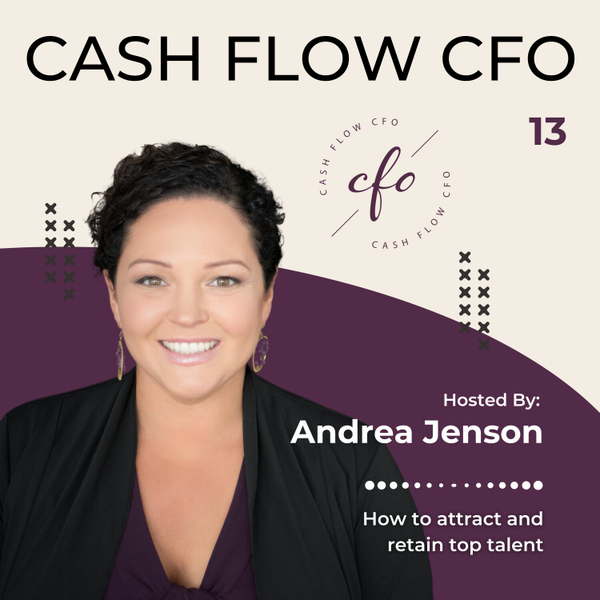 "It's that red carpet or white glove type service that I know you guys offer. We offer it and we only bring in clients that are the same way, because we want that boutique feel. That is really where the business owners get to have that deep sigh of relief of like, "Okay, I feel taken care of." That's what we thrive on."
-Andrea Jenson
Welcome to a brand-new episode of the Cash Flow CFO Podcast. Joining me today is Jen Perera with Our Benefits Coach, who focuses on strategic benefit strategies, first with recruitment and later with retention of employees. Jen has spent the last 14 years working in the insurance industry.
One of the topics we'll explore is how to find and keep great talent since it's well-known that most business owners struggle with it. Businesses today need to work much harder and pay closer attention to innovative strategies for luring and keeping top talent, particularly in light of concerns about rising inflation and a future crisis. CEOs and boards must pay close attention to what matters most to combat excessive employee turnover: employee happiness and retention.
We'll talk about how Jen got her start in the insurance business, why you need someone who can help you build the best plan possible by helping you consider all the options, and how Jen's services have evolved as our team has gotten bigger!
Join us to learn the whole story!
"If you, the business owner were to get hurt or sick. You are not able to work. Yes, your business can keep paying you, but then do you have to pay someone to do your job?  There are disability policies on the outside marketplace that cost well over a grand a month, you can run those through the benefits, through the company, and pay for your whole company for less than you would pay for your own individual policy."
-Jen Perera
Benefits of Retaining an Employee vs. Recruiting
Anyone who has ever worked in a business is aware of how difficult it is to attract and retain the best employees. Business owners must take every step possible to ensure that their top performers stay with them for as long as possible in one of the most difficult hiring markets we've ever seen. Do you believe that keeping your current staff rather than hiring replacements can be advantageous for your company? Andrea believes that keeping an employee is far more economical than hiring a new one. Therefore, as an employer, you should consider all of the numerous techniques that you can implement to help you keep this team in which you have already expended a lot of money, time, and energy.
"So, it's much, much, much more cost-effective to retain an employee than it is to hire a new one. And so, as an employer, you want to be looking at all the different strategies that you can put into place that will help you retain this team that you've invested so much money and time and energy into already."
-Andrea Jenson
Want to get in touch with Jen Perera?
LinkedIn: https://www.linkedin.com/in/coachjenperera/
Website: https://ourbenefitscoach.com/
The Cash Flow CFO Podcast
Hey everybody, welcome to The Cash Flow CFO podcast, the show that explores the financial side of running a business for people who want to maximize profitability and scale with confidence.
If you want to make smart financial decisions based on data and put more of your hard-earned profits into your pocket, this is the podcast for you.
The Cash Flow CFO Podcast is brought to you by The Cash Flow CFO. Did you know that, on average, business owners have up to 84% of their personal net worth tied up in their business? Our team of virtual CPAs and CFOs, as well as accounting and bookkeeping experts empower business owners just like you to make big leaps that help them maximize profitability and scale with confidence.
Visit thecashflowcfo.com for more information, and thank you for listening.