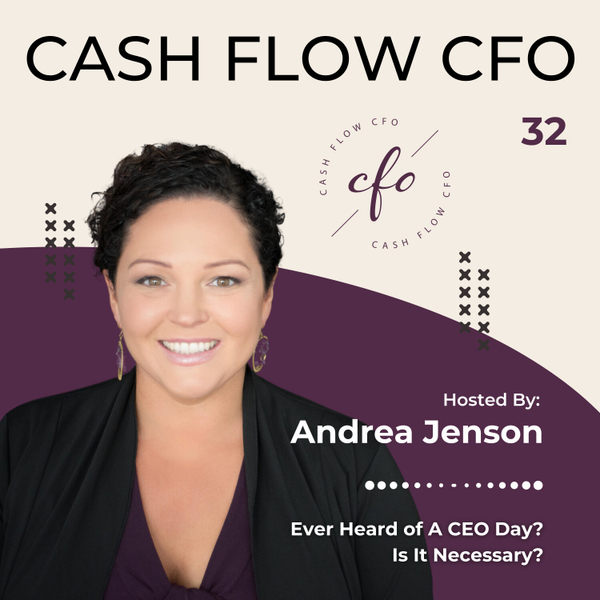 Episode 32: Ever Heard of A CEO Day? Is It Necessary? ft. Kirsten Screen
"A lot of entrepreneurship is you're solving problems. And I think that's super admirable of entrepreneurs and why they're the backbone, right? To make the world go round because we're constantly looking at identifying,
"Hey, this is a problem. Let me find a solution for it."
 - Andrea Jenson
Welcome to a brand new episode of the Cash Flow CFO Podcast. Joining me today is Kirsten Screen. After completing her post-graduate clinical training in 2004, Kristen started her first business after noticing a significant lack of support for registered dieticians attempting to launch their professions. Although that business never took off, she had just begun her entrepreneurial path. Before starting an IT software and consulting company with her spouse in 2013, Kristen worked as a corporate nutritionist for several large utility companies. In 2016, a vast data corporation paid several million dollars to acquire the IT software and consulting firm they founded.
In this episode, we'll talk about Kirsten's entrepreneurial experience, how it led her to where she is now, and how the lessons she learned along the way helped her position herself to offer strategic counsel to developing businesses, and much more!
Join us to learn the whole story!
"It's not a clock out, five o'clock on Friday kind of thing. Your business is probably going to be on your mind all the time. Even if you turn it off and tune out over the weekend. I'm not sitting at my computer on the weekend, and I spend time with my family.
I do all of those things. But is it always in the back of my brain? Yes. Because do I constantly have ideas about it? Yes. But that also to me is because I love my business. If you build it in a way you love, you're okay with it being on your brain all the time. So, my advice or the questions that I think most people don't ask is, are you willing to be in this for the long haul and understand that you're building with a multi-year plan in place."
 - Kirsten Screen
Ever Heard of A CEO Day? Is It Necessary?
You may become even more productive in your work and personal life by setting up time in your calendar for yourself with no deadlines. CEO days are not exclusively for executives at large corporations. You don't have to be a business owner to enjoy a CEO day. Being more deliberate with how time is spent during the day can help anyone juggle several obligations and wants to progress toward their goals.
Andrea says you are the team's cheerleader when you are the boss. You need to motivate everyone; you need to gather the troops. And how will you ever assume that job as the CEO of your company if you are burned out and unable to find that inside yourself?
"I think not enough people talk about that. Because as a leader, you are really the cheerleader. You've got to rally the troops; you've got to get everybody motivated.
And if you are burnt out, and you can't find that in your own self, how are you ever going to take that and be that role as the CEO in your business?"
 - Andrea Jenson
Want to get in touch with Kirsten Screen?
Instagram: https://www.instagram.com/thekirstenscreen/?hl=en
Website: https://kirstenscreen.com/
LinkedIn: https://www.linkedin.com/in/kirstenscreen/
YouTube: https://www.youtube.com/channel/UCzIgwfbjOLnwCnTg2vWP10g
Twitter: https://twitter.com/yourfitnessRD
The Cash Flow CFO Podcast
Hey everybody, welcome to The Cash Flow CFO podcast, the show that explores the financial side of running a business for people who want to maximize profitability and scale with confidence.
If you want to make smart financial decisions based on data and put more of your hard-earned profits into your pocket, this is the podcast for you.
The Cash Flow CFO Podcast is brought to you by The Cash Flow CFO. Did you know that, on average, business owners have up to 84% of their personal net worth tied up in their business? Our team of virtual CPAs and CFOs, as well as accounting and bookkeeping experts empower business owners just like you to make big leaps that help them maximize profitability and scale with confidence.
Visit thecashflowcfo.com for more information, and thank you for listening.