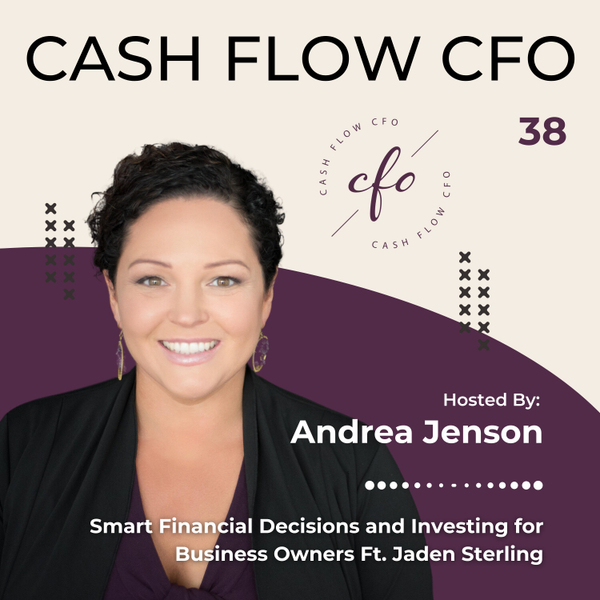 The Cash Flow CFO Podcast
Episode 38: Smart Financial Decisions and Investing for Business Owners Ft. Jaden Sterling
S2E38
31:26
August 21st 2023
Episode 38: Smart Financial Decisions and Investing for Business Owners Ft. Jaden Sterling
" You need to have somebody that you know, a financial advisor, that's going to give you these strategies and go, Okay, here's what we have, here's what I recommend, and walk you through and build up that education process too. Because I think that's where a lot of business owners stop short. "
 - Andrea Jenson
Welcome to a brand new episode of the Cash Flow CFO Podcast. Joining me today is Jaden Sterling. Jaden is a seasoned professional investor, intuitive investing coach and founder of sterling stock picker. With over 35 years of experience in the financial industry, Sterling has dedicated his professional life to helping individuals take control of their finances and achieve true financial freedom. As an innovator in the field, he was recently named to the list of the top innovative companies and CEOs of 2023 by Forbes magazine. 
In this episode, we'll talk about embracing your financial superpower: Just as every business has a unique selling proposition, every individual possesses a financial superpower or a skill that comes naturally. Identify your strengths, passions, and innate talents to determine how you can harness them to create financial opportunities.
Join us to learn the whole story!
"There's a million ways to make a million dollars and they're absolutely right. And because there's so many ways, you have to figure out what is what's like an intuitive or what's a superpower that you've got"
 - Jaden Sterling
Building a Solid Financial Foundation:
As a business owner, you're well aware of the dedication, effort, and hard work it takes to build and run a successful enterprise. Your business serves as both an asset and a source of income, but it's crucial to ensure that you're not only generating revenue but also maximizing your wealth and protecting your financial future. In this blog, we'll explore valuable strategies that business owners can employ to achieve financial freedom, make informed investment decisions, and safeguard their assets.
Before you venture into the world of investments and wealth management, it's essential to have a solid financial foundation. This includes paying off personal debts and ensuring that your primary residence is mortgage-free. By establishing a debt-free home base, you create a safety net that can withstand economic downturns and unexpected challenges.
"And, you know, investing in stocks is one of those things that I know a lot of business owners are like, I'd like to but I just don't know enough. So I'm not I'm just gonna sit on the sidelines, which I know is an awesome thing that you've helped solve, and, and you have a product on the market."
 - Andrea Jenson
Want to get in touch with Jaden Sterling?
LinkedIn: https://www.linkedin.com/in/jadensterling
Website: https://www.sterlingstockpicker.com/
Facebook: https://www.facebook.com/jadensterlingwealthwisdom2/
The Cash Flow CFO Podcast
Hey everybody, welcome to The Cash Flow CFO podcast, the show that explores the financial side of running a business for people who want to maximize profitability and scale with confidence.
If you want to make smart financial decisions based on data and put more of your hard-earned profits into your pocket, this is the podcast for you.
The Cash Flow CFO Podcast is brought to you by The Cash Flow CFO. Did you know that, on average, business owners have up to 84% of their personal net worth tied up in their business? Our team of virtual CPAs and CFOs, as well as accounting and bookkeeping experts empower business owners just like you to make big leaps that help them maximize profitability and scale with confidence.
Visit thecashflowcfo.com for more information, and thank you for listening.