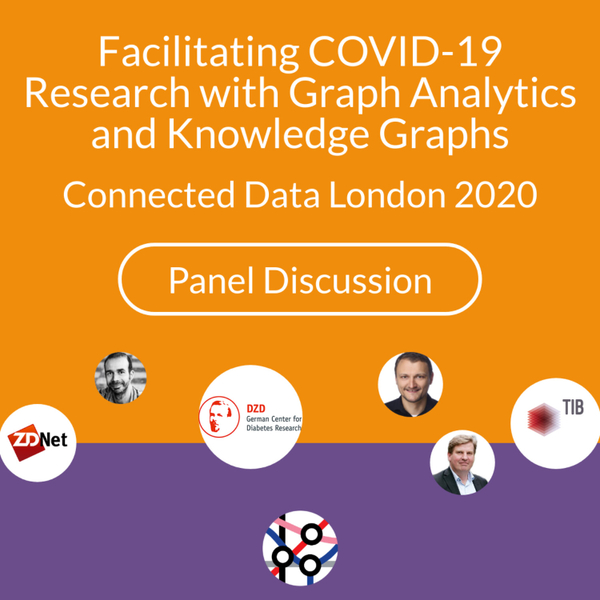 Scientists, health researchers and policymakers are using all the tools they can get their hands on to try and beat the current global pandemic.
Germany's National Centre for Diabetes Research (DZD) is one of the organizations turning to Artificial Intelligence, advanced visualisation techniques and other tools to aid the search for a vaccine and effective treatments. 
Graph technology is key in this effort. DZD is integrating data from various sources and linking them in a dedicated COVID-19 Knowledge Graph to help researchers and scientists quickly and efficiently find their way through the more than 40,000 publications out there on the problem.  
DZD's Head of Data Management and Knowledge Management, Dr. Alexander Jarasch, notes that, "Graph enables a new dimension of data analysis by helping us to connect highly heterogeneous data from various disciplines." 
The COVID GRAPH project is a voluntary initiative of graph enthusiasts and companies with the goal to build a knowledge graph with relevant information about the COVID-19 virus. It's a knowledge graph on COVID-19 that integrates various public datasets. This includes relevant publications, case statistics, genes and functions, molecular data and much more. 
Still, the global scientific knowledge base is little more than a collection of documents. It is written by humans for humans, and we have done so for a long time. This makes perfect sense, after all it is people that make up the audience, and researchers in particular. 
Yet, with the monumental progress in information technologies over the more recent decades, one may wonder why it is that the scientific knowledge communicated in scholarly literature remains largely inaccessible to machines. Surely it would be useful if some of that knowledge is more available to automated processing. 
The Open Research Knowledge Graph (ORKG) project is working on answers and solutions. The project, recently initiated, and coordinated by TIB (Leibniz Information Centre for Science and Technology and University Library) is open to the community. ORKG actively engages research infrastructures and research communities in the development of technologies and use cases for open graphs about research knowledge. 
Dr. Sören Auer, TIB Director and ORKG Lead, states that "Knowledge Graphs..allow us to interlink, interconnect and integrate heterogeneous data from various sources in various formats, modalities, levels of structuredness, governance schemes etc. As a result the effort required for preparing and integrating data for answering specific research questions is dramatically reduced, and AI techniques can more directly applied". 
Join us as George Anadiotis hosts Alexander Jarasch and Sören Auer in a discussion that will go over: 
The chronic issues that plague scientific research, and how they apply to life sciences, and SARS-CoV-2 research in specific 
The way data, analytics, and AI can help deal with the issues and facilitate research 
The COVID GRAPH project. What is the goal? Who set it up? What does it include? Whom is it for? How does it work? 
Differences and similarities between property graphs and knowledge graphs, and how that applies in the COVID GRAPH project. Can ORKG and COVID GRAPH work together? 
What are next steps / outlook? How can people get involved? 
The Connected Data World Podcast
Welcome to the Connected Data Podcast, powered by Connected Data World, the leading conference for those who use the relationships, meaning and context in Data to achieve great things
Stay tuned and dive into our diverse content. Learn & share!
The Connected Data World Team