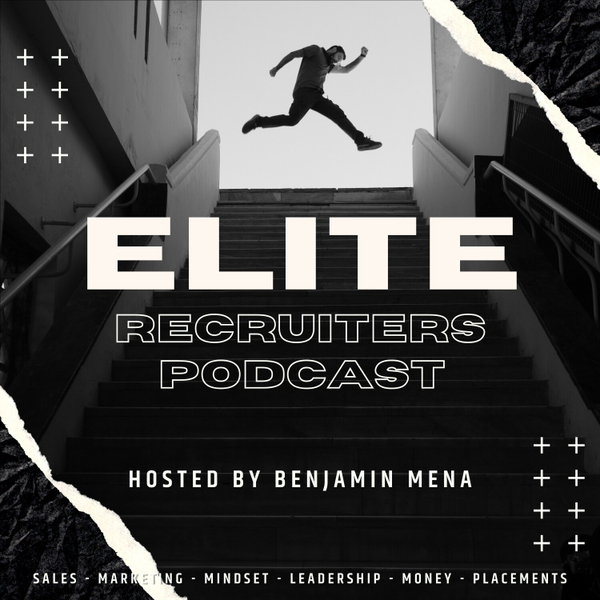 In this exciting episode of the Elite Recruiter Podcast, I get to interview Emilie Ornon who after a few years of starting a new desk for the company she worked for decided to make the jump and launch her own successful firm. 
We talk about:
What it's like to launch a firm after a successful agency recruiting career
What it takes to win new business as you are just starting out
Creative Recruiting avenues that are helping her team place, candidates
What the recruiting world is like in France
What the plans are to keep scaling and growing
The top things that you need to do if you want to grow your recruiting firm.
Emilie Ornon's Company AGILEMATCH: https://www.agilematch.fr/
Emilie Ornon's LinkedIn: https://www.linkedin.com/in/emilie-ornon/
Team Member: Gaetan Ornon: https://www.linkedin.com/in/ga%C3%ABtan-ornon/
Emilie Ornon's Bio:
After more than 10 years of professional experience, I discovered the world of recruitment 3 years ago.
I am proud to have succeeded in taking up a major challenge: to create an IT pole within the first Manpower firm in France.
It was after 2 years of growth and success (Top 5 Region for the year 2020) that I made the decision to stand on my own feet by creating AGILEMATCH.
I want to continue to exercise my passion, the "hunting" of penury profiles, to help companies find their future employees.
It is thanks to my knowledge of the market and my experience that I will be able to develop AGILEMATCH's activity on a daily basis according to developments in the IT world.
You will understand, the idea is to keep a maximum open mind. I like to renew my practices according to the innovations that I identify in the world of recruitment. Also, I am on constant watch of what is done on the European and US market.
Hence the choice of AGILEMATCH: adopt an "agile" daily operation in order to create a perfect "matching"!
The Elite Recruiter Podcast
Earlier this year I started a Podcast called Recession Proof Leadership. 
I wanted to focus on leaders and how they are navigating or have navigated through tough times before.
I wanted to share the stories to as a beacon for light for other leaders as they navigated the tough environment.
The problem was shortly after creating it and lining up a few more interviews, some places and sectors caught on fire. 
Stock Market started to shoot up as millions were getting laid off, and hiring went crazy in some markets. 
Learning and sharing those stories was still a passion project but it just didn't feel right as I was seeing triple digit gains in some of my smaller stock portfolios.
So I put that project on hold.
I double down on our firm.
But something over the year kept bugging me about still picking up the microphone to continue the project. 
But over the year the project evolved in my head.
Personally I was very successful as an internal recruiter in my space.
But as I made that scary jump from the inside, to my own firm, I was able to digitally surround myself with some of the industries best. 
Now I am relaunching the Podcast, I am want to share the success stories that I found with my industry peers.
I wanted to share the stories and the questions that I was asking early on.
How they got there.
What kind of work did it take.
Tips, Tools, and Tricks.
The Mindset needed to get them to where they are.
What they are doing with their success. 
Goals and visions for the future. 
So please join me on this journey as I interview some of the best in our industry and other industries on how they got to where they are now.