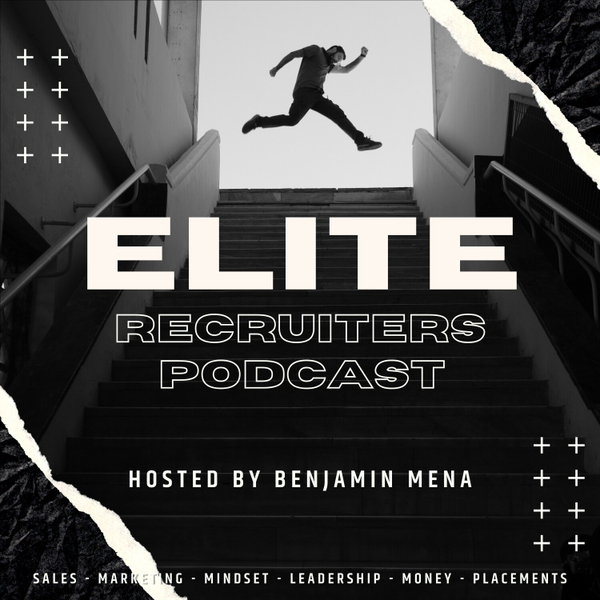 The Elite Recruiter Podcast
Episode 11 - When Continuing Education in Recruiting Impacts Earnings with Top Industry Trainers Tricia Tamkin Jason Thibeault
In this episode, Tricia Tamkin and Jason Thibeault discuss their path into the recruiting career, why they think recruiting is one of the greatest careers, as well as some tips and strategies on how to be a more effective recruiter.
 Highlights We Talk About:
Tricia and Jason both new early on that they wanted to be a recruiter.
Tricia believes that most people do not seek a recruitment career because they do not understand how spectacular it is.
There is a low barrier of entry to become a recruiter, but a high barrier to be successful and what it takes.
Continued education and training in the recruiting industry is critical if you want to succeed.
The things that used to work do not work anymore. The business changes all the time.
The importance of spending time each day learning and growing.
Tricia and Jason's favorite books
In a people business like recruiting your personality matters so learn how to let it shine.
It is fulfilling to know that recruiting and placing people can change their life for the better.
All recruiters need to understand that you can't make somebody take a position or extend an offer and you start to sound like a slimy salesperson if you push them too hard.
Even when your busy and your plate is full how much business development you need to do per day to make sure you don't end up on the income roller coaster.
Sourcing is a necessary evil but it is a great opportunity if done correctly.
Doing random acts of kindness for people in the industry will result in business.
Kindness stops being kindness when you add advertising.
Consistent and continual action is what will move you forward.
Being consistent in small ways over time will yield big results.
The importance of having an accountability partner and/or coach
 About Tricia:
https://mooreessentials.com/tricia/
About Jason:
https://mooreessentials.com/jason/
Client Cornucopia - Sales Training
https://mooreessentials.com/client-cornucopia
eSourcing eSSentials - Sourcing Training
The Elite Recruiter Podcast
Earlier this year I started a Podcast called Recession Proof Leadership. 
I wanted to focus on leaders and how they are navigating or have navigated through tough times before.
I wanted to share the stories to as a beacon for light for other leaders as they navigated the tough environment.
The problem was shortly after creating it and lining up a few more interviews, some places and sectors caught on fire. 
Stock Market started to shoot up as millions were getting laid off, and hiring went crazy in some markets. 
Learning and sharing those stories was still a passion project but it just didn't feel right as I was seeing triple digit gains in some of my smaller stock portfolios.
So I put that project on hold.
I double down on our firm.
But something over the year kept bugging me about still picking up the microphone to continue the project. 
But over the year the project evolved in my head.
Personally I was very successful as an internal recruiter in my space.
But as I made that scary jump from the inside, to my own firm, I was able to digitally surround myself with some of the industries best. 
Now I am relaunching the Podcast, I am want to share the success stories that I found with my industry peers.
I wanted to share the stories and the questions that I was asking early on.
How they got there.
What kind of work did it take.
Tips, Tools, and Tricks.
The Mindset needed to get them to where they are.
What they are doing with their success. 
Goals and visions for the future. 
So please join me on this journey as I interview some of the best in our industry and other industries on how they got to where they are now.