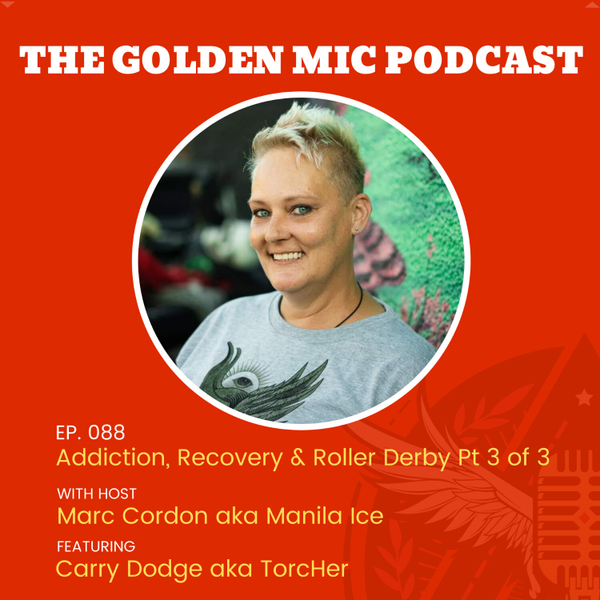 Expertise Reimagined & Marc Cordon present
The Golden Mic Podcast
Addiction, Roller Derby, & Coming Home w/ Carry Dodge aka TorcHer Pt 3 of 3
Expertise Reimagined & Marc Cordon present
The Golden Mic Podcast
Addiction, Roller Derby, & Coming Home w/ Carry Dodge aka TorcHer Pt 3 of 3
https://play.goldenmicpodcast.com/0088_dodge
"My joy revolution. It's getting sober. It's being happy with the life that I have, even though it might not be where I want it to be yet. It's about being in the moment and being joyful for what I have. I've never felt joy in my life like I do now, and especially this last year. I'm so grateful. I'm just so grateful for where I am today."
- Carry Dodge aka TorcHer
Do you feel the power & energy in TorcHer's joy revolution? So good!
It's the last episode of Carry Dodge's 3 part series. And everything comes full circle. If you listened to the first two episodes, Carry talks about living sober. She also talks about how her life changed as a result of being a part of her chosen family in Ocala Roller Derby. Whether roller derby or family or her sober network, it all contributes to her life reimagined.
Be on the lookout for these topics:
00:54 - The importance of being home & family
12:54 - Connecting with Kindness
16:11 - Derby Life
Enough copy! Listen now.
https://play.goldenmicpodcast.com/0088_dodge
You'll be glad that you did.
🚀🚀🚀🚀
For a free podcasting mini-course on how this podcast was created, click here.
The Golden Mic Podcast
Welcome to The Golden Mic Podcast where personal growth simply isn't enough. 
Host, Marc Cordon is a positive psych coach, a do-gooder from the island of misfit toys who founded The Joy Revolution. 
Each week, Marc raps with an extraordinary guest doing extraordinary things through their own revolutionary work and takes deep dive into the ups, downs, and all arounds of life. 
Listen now as Marc and his guests provoke and empower you to increase your capacity for joy and inspire you to spark your own revolution to change history for the better. 
Welcome to the most serious happiness podcast in this multi-verse, Welcome to The Golden Mic Podcast!
Support Us