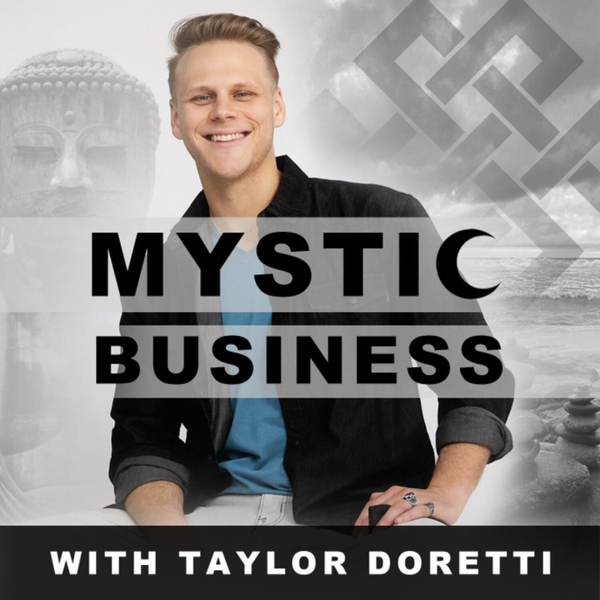 Tim Wilkerson is Astrologer & Herbal Alchemist. He studied with Frater Albertus at Paracelsus College and later became one of the leading authorities on Astrology for Laboratory Alchemy with his 38 years of laboratory practice.
We discuss what Sidereal Astrology is and how it is different from modern astrology, how it helps you learn about & know yourself on a deeper level, and how to apply it your lab work work.
You can purchase his LabCount Calendar, or handbook - Alchemy Astrology, Lost Key to the Philopher's Stone. Forward by Dennis William Hauck. You can also purchase alchemy astrology reading, star report, and tutoring on his website.
Mystic Business with Taylor Doretti
The Mystic Business Podcast provides Spiritual Seekers with practical structure & guidance for Financial Prosperity & Spiritual Development.
Professional Mystic, Taylor Doretti brings you Dharma Talks & Conversations with thought leaders, spiritual teachers, & entrepreneurs for you to take your life & business to the next level.
_______
Message from Taylor - This is the podcast that I wish I heard years ago at a time where I was looking for more from life and more importantly, from myself. Spiritual ideas & philosophies are a dime a dozen, yet learning how to integrate them with real world practicality I always felt was missing. As a natural born entrepreneur and mystic I want to share what helped me on my path and empowered me to trust myself, accept myself, & support my lifestyle.
We cover all range of topics from Spiritual Development & Enlightenment, Conscious Business & Marketing, Entrepreneurship, Meditation, Mindfulness, Lifestyle Refinement, Sorcery & Magick, Alchemy, Herbalism and much much More.
______
To connect with me directly or get in touch reach out to me on Instagram @taylordoretti
To check out my apothecary visit @medicinebuddha.labs on instagram.
Special thanks to my friend Seraj Tannir for the intro music.