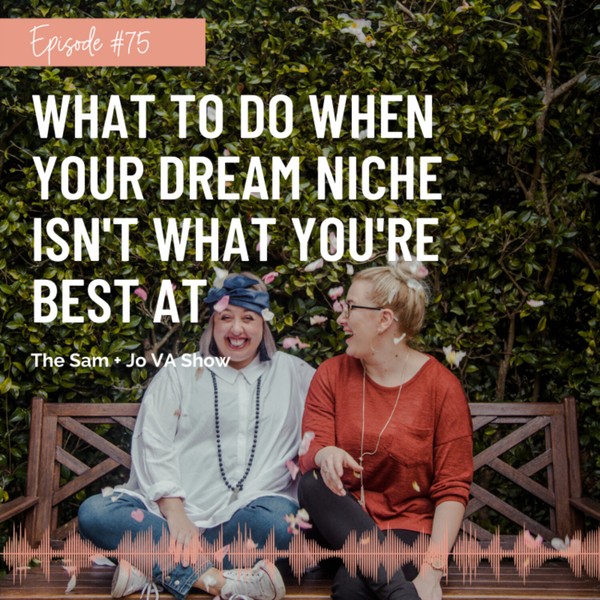 The Sam + Jo VA Show
#75 What To Do When Your Dream Niche Isn't What You're Best At
S1E75
17:46
October 19th 2021
There's no doubt about it - we LOVE a good niche. In fact, the right-fit niche can skyrocket your business's success!
But what happens when the services you WANT to offer (or think you SHOULD be offering) aren't things you currently have any skills, experience and know-how in?
The good news is that you've got a few options, and in this podcast episode we talk you through them all.
But be warned. There are more than a couple of cold hard truths shared. 
So you'd better buckle up buttercup!
In this episode you'll learn:
Whether you're picking your niche for the right reasons.
How to know if it's the right niche for you.
Why you can't half ass it when specialising.
How to transition from general VA services to your niche service/speciality industry.
Join the Members Club to fast track your VA journey with done-for-you templates, tutorials and support from us!
Sam + Jo xoxo
The Sam + Jo VA Show
THE must listen-to podcast for Virtual Assistants around the globe!
From competitors to friends to business partners ...
Having both independently grown and managed successful VA businesses for 16+ years combined, in 2019 VA coaches Jo Jensen and Samantha Browne joined forces to help other VAs grow their very own fully-booked businesses.
No matter where you are in your VA journey, whether you're just starting out or you've been in the biz for a while, The Sam + Jo VA Show podcast provides you the best insights, ideas and strategies so you too can grow a thriving, work-from-home, virtual business.
Learn from those that have not only been there, but they've done it (and continue to do it) successfully!
Looking for more clarity focus to grow your business? Access the best virtual assistant training & coaching for VAs around the globe at The VA Foundry