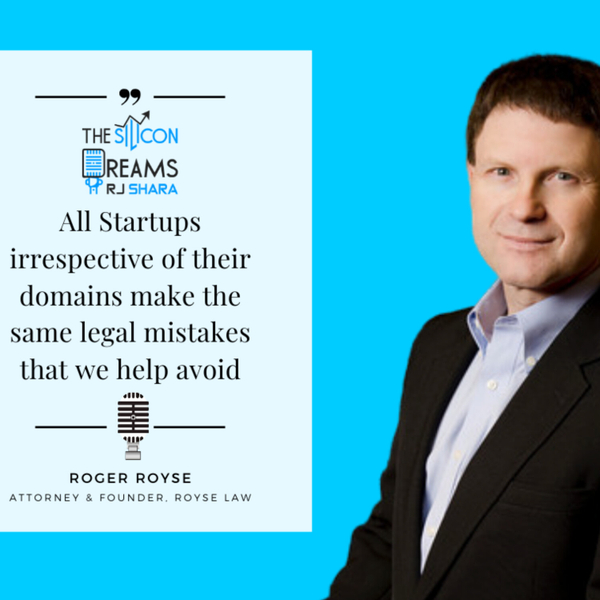 The Silicon Dreams
The Silicon Dreams by RJ Shara - Attorney Roger Royse on Legal Challenges, Agtech, Blockchain and Coronavirus
In this episode of Silicon Dreams with RJ Shara, Roger Royse, Founder at Royse Law Firm answers many questions ranging from Legal Challenges for startups in the United States to Blockchain to Agtech. He helps startups across the globe with corporate and tax laws, formation, contracting, acquisitions, and exits as they settle in California.
For tech startups outside North America, Royse Law Firm helps them find their footing in the US markets. Roger helps these companies be legally compliant throughout their startup journey
What is the Biggest Challenge for Starting/Running a Business in California Today
Food, shelter, and living expenses have always been a problem but as of this year, AB-5 is the biggest hurdle for gig economy for both — companies and workers. This law has killed the Gig Economy because of the nature of rights and responsiblities that follow when a worker is classifed as an employee. For companies working in the Gig Economy model, this has increased the cost of doing business in California by at least 30%. The cost went up, the demand stayed the same and hence people were shelved.
Roger Teaches Blockchain at Stanford's School of Continuing Studies
Royse Law firm was one of the first law firms in US to not only help startups and companies ride the wave of cryptocurrency and Initial Coin Offerings (ICO) but they were probably the first law firm in US to even accept payment in Bitcoin. Roger regrets not getting more of the Bitcoin payment back in those days! As Roger helped tech companies navigate the legal landscape, it was imperative that he himself understood more about Blockchain and Cryptocurrency in order to advise the startups he worked with. Roger ended up learning enough to not just help the startups with their legal challenges but also to teach a course at Stanford.
Royse Law Firm and Agricultural Technologies (Agtech or Agritech)
Royse Law Firm helps many Agtech startups as they solve the biggest challenge starting us in the face — how do we fulfill the demands for food for an ever growing population. Roger has many agtech clients but at the same time they have performed outreach for agtech companies on a herculean scale through annual conference which is now one of the biggest agtech conference in North America. Roger has also testified in front of the Congress and advised them on matters of Agtech. They don't just help them with legal challenges but they also help them connect to Angel investors and Venture Capitalists.
Dead On Arrival: How to Avoid the Legal Mistakes that Could Kill Your Startup
Roger says that many startups irrespective of their origin end up performing the same legal mistakes. He summarizes his years of experience watching startups fail in his book Dead On Arrival. His hope is that people will learn from the mistakes of these failed startups and refrain from committing the same mistakes for their own startup. He is also planning to write a sequel about the common traits that he has observed in successful startups and the book will launch soon. Those interested in receiving a free copy of the book or those who simply want to get some advice from Roger can email him at [email protected]. Roger often hosts webinars and can be found as a speaker at many Idea-to-IPO events in the Bay Area.
Acquisition of Royse Law by Haynes and Boone
The Royse Law firm has grown over the past few years and in order to grow further they are now merging with Haynes and Boone. The acquisition will be finalized between April 30th and May 1st and Roger's team of 27 attorneys will join Palo Alto based Haynes and Boone. Haynes and Boone is a global network of attorneys established in 1964 in Dallas. Today they have a network of over 575 attorneys. The Silicon Dreams wishes good luck to Roger Royse for the acquisition and thanks him for his willingness to advise entrepreneurs.
https://facebook.com/rjshara.biz
https://instagram.com/rjshara.biz
The Silicon Dreams
The Silicon Dreams is for startups and entrepreneurs, and streams live on Radio Zindagi 1170 AM (Bay Area Bollywood Radio Station) on Mondays from 3.30 to 4 pm. The Hinglish episodes that are broadcast by the radio station are hosted on a separate podcast.
Visit https://rjshara.biz for episodes, transcripts and blogs related to startups, entrepreneurs and investments
On this podcast we will host English versions of the show or a new English episode every week for those listeners who don't speak/understand Hindi.
The show host and guests will talk about funding, investments, taxes, liabilities, policies, business plans, exit strategies, etc. aka all things that keep a business running.