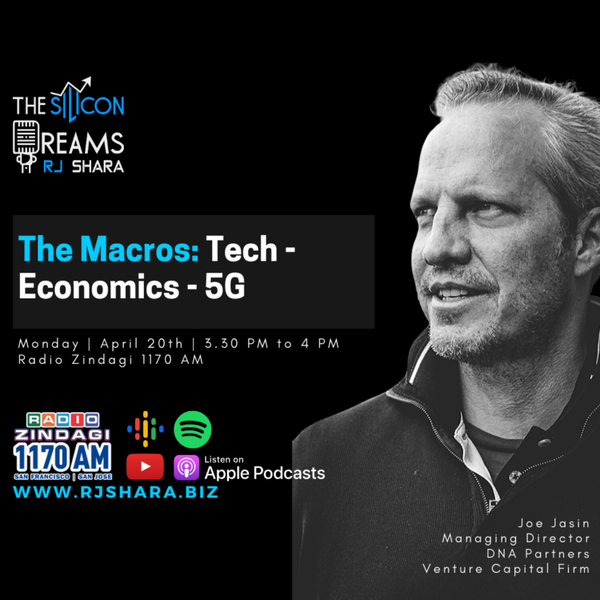 The Silicon Dreams
Joe Jasin, Managing Director of Silicon Valley based Seed Investment firm DNA Partners talks to RJ Shara about Tech, Economy, and 5G on The Silicon Dreams on Radio Zindagi 1170AM
Visit http://8ty6.link/rjshara for full episode details
Joe Jasin from DNA Partners is a seasoned executive and investor with portfolio companies in both The United States of America and also China. Joe has decades of experience in the telecommunications domain since the start of his career with 3G. Joe has also dealt with governments across the globe in both free market economies as well as command economies. Joe discusses the 5G evolution, navigating the governments and investments in this episode and podcast of The Silicon Dreams.
What is the vision of DNA Partners
DNA Partners invests in the category of Seed Round investing between 50,000 USD to 500,000 USD in US and China. Their portfolio investments are split between the two countries across companies that operate in the digital media value chain technologies space. The investment amounts are limited in the range of 50k to 500k USD but the valuations in both these countries are extremely different.
Joe Jasin as an individual
Joe talks to RJ Shara about his history as an executive working with small to big companies in Profit and Non Profit space in United States and in Asia. He also founded two companies which had a successful exit. His first company – Ice Wireless was founded in 1998 and had an exit in 2000. His corporate portfolio was focused around the evolution of wireless communication during which time he had to interact closely with governments in United States, Middle East and Asia. He also founded a mobile developer's group in the Silicon Valley which is still running successfully after 16 years.
What's next for 5G and what are the barriers to adoption
Joe and RJ Shara talk about the wireless evolution. Joe explains how 3G was a revolution in itself as it allowed for a breakthrough wireless communication allowing analog voice and digital data to be transmitted. In 4G, voice could have been digital but mobile operators chose to keep the voice analog. However in 5G everything will be digital and over TCP/IP which will be another breakthrough in itself. The governments are allocating more wireless spectrum to support 5G which has them competing against each other and this is being driven by consumer demand.
What is the governments' role in strategy building for startups and corporations
The free enterprise or free market economy like The United States of America allows multiple competitors to exist in the same space which typically provides room for innovation. However in command economies or the top down approach, governments are more proactive in dictating protocols, etc. to be used in technology. There are pros and cons to both and there isn't a right or wrong approach. In most Asian companies as compared to the USA, corporations and startups wait for governments to release the protocols and guidelines before they can start work. The former is a proactive government while latter is a reactive government.
US and China are locked in a battle of patent numbers, however what's more important is how many of these patents are commercialized
What are other areas of interest for DNA Partnerts besides telecommunication
Joe Jasin explains that DNA Partners deals with IP communication vs telecommunication where the former is a newer technology that surrounds us everyday like Zoom, Webex, etc. where the entire communication happens over TCP/IP. However besides IP Communication, DNA Partners and Joe Jasin also work with Digital Media Infrastructure companies.
Visit http://8ty6.link/rjshara for full episode details and for Joe Jasin's email ID.
The Silicon Dreams
The Silicon Dreams is for startups and entrepreneurs, and streams live on Radio Zindagi 1170 AM (Bay Area Bollywood Radio Station) on Mondays from 3.30 to 4 pm. The Hinglish episodes that are broadcast by the radio station are hosted on a separate podcast.
Visit https://rjshara.biz for episodes, transcripts and blogs related to startups, entrepreneurs and investments
On this podcast we will host English versions of the show or a new English episode every week for those listeners who don't speak/understand Hindi.
The show host and guests will talk about funding, investments, taxes, liabilities, policies, business plans, exit strategies, etc. aka all things that keep a business running.