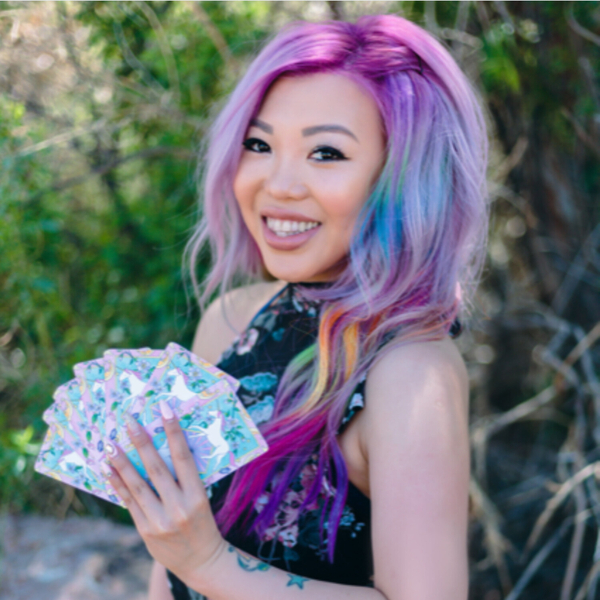 Pamela Chen is one of the leading experts in energetic expansion, spiritual mastery, and 6-7 figure business ascension. She is the CO CEO of Quantum Wealth Coaching and the founders of 7 Figure Goddess Mastermind and 6 Figure Priestess Certification and Business Course, with her business partner, Leeza Robertson.
They help spiritual entrepreneurs, leaders, healers, coaches, and visionaries to create a heart-centered intuitive online business by swirling and crafting luxe premium offers and programs that attract their ideal soulmate clients. Help women build incredible wealth and magic in their lives.
When Pamela is not busy creating tarot decks and writing books for Llewellyn Worldwide, she loves to play with her chickens, read paranormal romance books, and eat spicy Cheeto puffs with avocado.
Find Pamela:
Instagram @pamelaunicorn
Facebook CLICK HERE
We always appreciate a 5-star rating, review, or for you to share with your friends.
PS.
How you can learn about the mind-body connection without years of training!
Registrations are open for my FREE info webinar on Thursday 16th September 12.30pm NZT to talk about my body of work and the next practitioner training (open to established health and wellness practitioners and coaches only).
https://theartoflisteningtoyourbody.com/emotional-body
To find out more about Jin https://drjinong.com
For group courses and training https://theartoflisteningtoyourbody.com
The Art Of Listening To Your Body
My name is Dr. Jin Ong I'm a cathartic release therapist, professionally trained as an osteopath, psychosomatic therapist, western acupuncturist and herbalist.
I'm fascinated by the mind-body connection and how your physical body is a manifestation of your emotional state.
My aim is to create awareness to the underlying emotions behind pain, injury and disease in the body as well as behvioural dysfunctions and mental imbalances. I do this using a unique blend of eastern and western philosophies and a good dose of intuition.
I love reading the body and what it's really trying to tell us through it's physical presentation, injury, pain or illness. I call it the art of listening to your body. It's all about understanding yourself and others on a deeper level.
I guide people to recognise their purpose in the world by bringing light to the issues that hold them back. I do this through an intuitive understanding of how the body speaks to us and help clients develop their emotional awareness and take actionable steps to achieve their goals.
If you want to learn to tap into your innate intuitive sense in an easy to understand way come and join me.
Pain stories are fascinating and there is so much we can learn from them. Join me as I'm joined by inspirational people who share how their life changed after their painful experience- what they had to surrender to and how their life looks now.