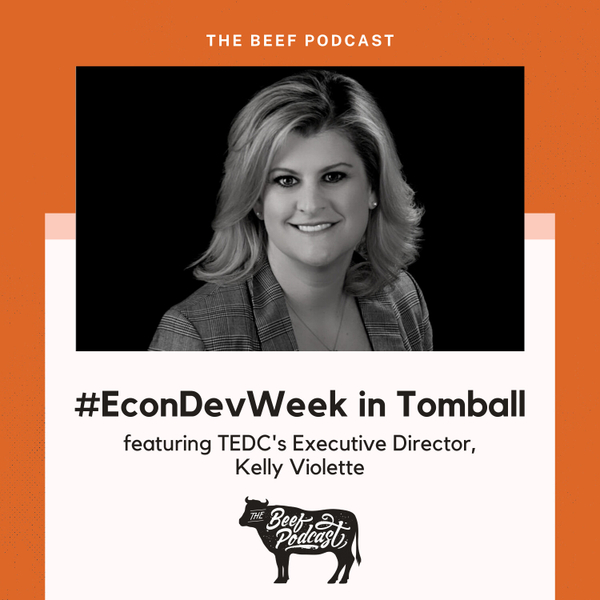 The Beef Podcast
#EconDevWeek in Tomball featuring TEDC's Executive Director, Kelly Violette
On this very special episode of The Beef, Kelly tells us all about what the Tomball Economic Development Corporation has planned for 2022 after the success of 2021, why she and TEDC advocate for small businesses to relocate to Tomball and the benefits of moving here, and a few hints at some amazing projects to come!
She shares some personal stories about where she grew up, how a lack of planning and development affected her hometown, and why she decided to star in a career such as economic development. If you have never heard of an Economic Development Corporation, this episode is for you!
Key Points From This Episode:
•  Hear why Kelly and John both agree about mid-day being the best part of the day.
•  Hear about life in Riverside, California, where Kelly was born.
•  Kelly talks about the growth of her hometown and the lack of preparedness for the area.
•  Kelly talks about playing SimCity as a child and how it relates to the jobs she has had.
•  John talks about his love for the area, where he has lived recently, and how his family relocated in the past year to The City of Tomball.
•  John mentions how well Tomball has handled the unprecedented growth it has encountered recently.
•  Kelly talks about how shocked people are that she wound up in a small town in Texas.
•  John discusses how a few people have moved from California to Tomball, TX in the past few years.
•  Kelly discusses her background in planning and how much she loves her job at the Tomball EDC.
•  John and Kelly discuss the inner workings of municipalities, how long projects take and the importance of every department within a city.
•  John talks about the importance of talking to local groups like an EDC or Chamber of Commerce when moving a business into a city.
•  Kelly explains exactly what the EDC is and why it is so important.
•  Kelly mentions some of the things Tomball and EDC does to incentivize new businesses.
•  Kelly mentions some of the large projects that have been worked on in the past, and a few coming in the future.
•  Kelly teaches us about the 1979 Economic Development Act and how cities are taking advantage (in a good way) of the opportunity this created.
•  Kelly and John talk about the Technology & Business Park and how it is almost completely full.
•  Kelly tells us how to support the Tomball EDC.
•  Kelly talks about the upgrades coming for the old part of Tomball.
•  Kelly mentions some of the grants available to businesses in the Tomball area.
•  Kelly shares final thoughts about the EDC and what she wants us to know.
Tweetables:
"Hands down, I would say it's making our communities awesome. It really is. It's trying to improve the quality of life for the communities and the people that live there and work there and spend money there, and the basis of it essentially is bringing in employers." - Kelly [0:17:21]
"I tell people that I've got the best job in Tomball. Because I feel like I really do. " - Kelly [0:19:55]
"We try really hard to to make sure that the projects that we work on are in line with our strategic work plan and in line with the council's comprehensive plan and their strategic plan." - Kelly [0:22:15]
"Let's see what we can do if we plan for growth happening for us. And that's, I think, what we were able to do with the comprehensive plan in 09', which was our first comp plan and that whole process was phenomenal. I mean, that was where the farmers market idea really was born." - Kelly [0:22:55]
Links Mentioned in Today's Episode:
Tomball Economic Development Corporation on Facebook
Tomball Economic Development Corp. on Instagram
Tomball Economic Development Corp on LinkedIn
The Beef
Small businesses are the backbone of America and they help keep the Texas spirit alive. But, did you know, as many as 50% will close their doors forever after just five years? Well, we're here to change that, this is THE BEEF Podcast. We know how tough it is to be an Entrepreneur these days. We're giving small business owners a platform to share their story. You'll hear it all, the highs and the lows, the good and the bad, and everything in between. We are proudly brought to you by Beefy Marketing.
**The views expressed here are solely representative of those stating their opinions and does not necessarily reflect the views of John Kelley or Beefy Marketing. The Beef Podcast invites guests to speak of their experience and offer personal opinions on a range of topics, none of which is censored or scripted. Nothing expressed in any episode should be taken as advice for any subject including financial decisions, medical decisions or life choices. Please consult an appropriate expert if you have questions regarding any topic discussed on The Beef.**
Meet the Host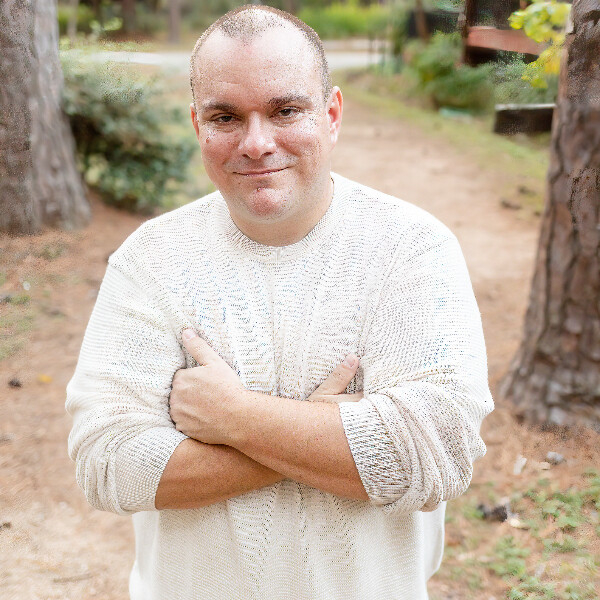 John is a Texas firefighter, entrepreneur and marketing advisor. As a business major, small business owner and marketing advisor for Beefy Marketing, he has become very familiar with the challenges entrepreneurs face every day. Bringing his humor and love for helping others to The Beef, he dives deep into what makes each business tick, helping bring useful information to other small business owners. Learning all about a business and putting them into the spotlight gives listeners a reason to visit each business featured and give them a try.
https://linktr.ee/johnthemarketer