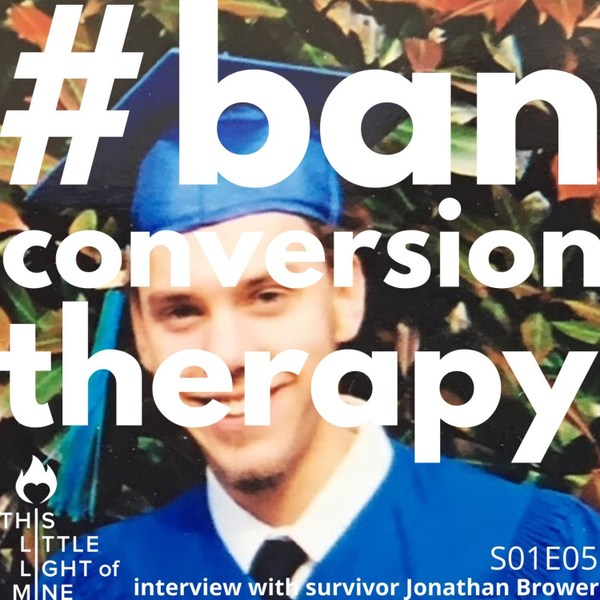 In today's episode of This Little Light of Mine I'm going to be speaking with Jonathan Brower who knows a little bit about NOT CHANGING (as in not changing your sexual orientation, based on what someone else believes SHOULD be true for your life). As I introduced on the last episode of TLLOM, Jonathan has been through conversion therapy programs four times… yes… FOUR TIMES! 
There has been lots in the news recently about conversation therapy. And Jonathan Brower was intimately involved in the very recent ban of conversion therapy in the city of Calgary Alberta. 
As they do with systemic racism, gender inequality & oppression churches around the world continue to do an excellent job masquerading their practices of hate, discrimination and exclusion for queer people so that they APPEAR as offering message of HOPE and CHANGE coming from the 'one and only true word of God' or as compassionate offer of help, out of true love & concern '… spoiler alert… let's call it what it is. HATE.
I found Jonathan's story fascinating and it helped me see the politics behind conversation therapy and how real and dangerous this practice still is today in both Canada and the United States.
Interview Rundown 
(3:40) Interview with Jonathan Brower
(4:38) My calling to be a pastor
(4:47) Becoming a Christian out of fear
(5:30) First gay crush at 10
(6:30) Being taught shame 
(17:53) Not getting into heaven
(18:32) But I can change
(19:06) Bullied
(20:42) I wanted conversion therapy
(21:26) I need help
(23:14) Conversion therapy defined
(26:03) Starting reparative therapy
(41:45) spiritual and emotional abuse
(42:09) I'd rather be hit
(45:30) Gaslighting
(48:15) Challenges with sexual intimacy
(54:29) Treated like garbage
(1:01:04) Conversion therapy today
(1:08:27) Does Justin Bieber support homophobia
(1:13:05) How can we help?
Take action
Jonathan Brower and I wanted to make your FIRST step as simple as possible. We have created our #BanConversionTherapy Workbook, a guide to saving kids' lives.
Here is a link to that free resource
https://bit.ly/BanConversionGuide
Thank you for joining us today and a huge thank you Jonathan Brower for sharing his personal story and for using his voice to help learn more and show us how we can be part of the solution.
Every single one of us has a unique voice that has been designed TO BE HEARD. You have a voice. There is greatness in you… let that light shine. The world needs you. 
We hope you enjoyed today's episode. If you did, please remember to share, rate and review.
We would also love to hear your thoughts, comments and opinions. Drop us a note [email protected]
James
This Little Light of Mine - LGBTQ, Christianity, religious trauma, mental health
This Little Light of Mine is an LGBTQ+ tale of terror (growing up as a closeted Gay Christian in the Evangelical church) that led to trauma (cPTSD, religious trauma, spiritual abuse, sexual abuse, addiction) to what I intend to become triumph.
Join me on my healing and recovery journey towards mental health, spiritual health and emotional health as I find my voice by sharing what happened in my life as a Queer Christian where I was taught that I was not allowed to love.