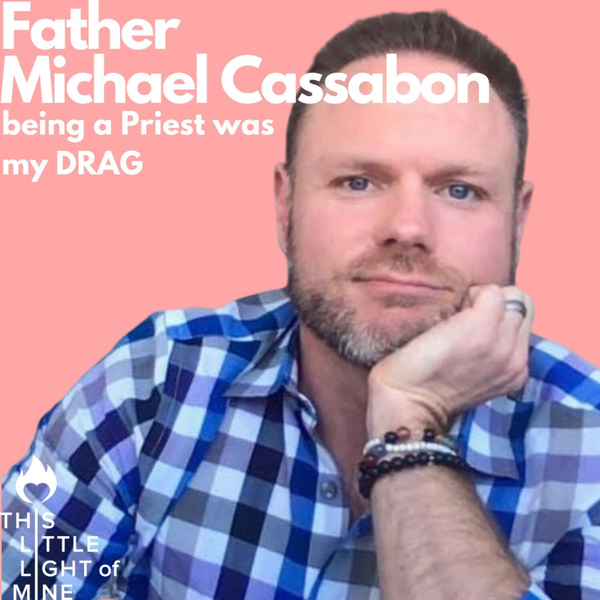 One of the big reasons for starting TLLoM is my belief that we grow, heal and shine when we authentically share our stories.  With this belief I want to use this platform to have conversations with other queer people of faith, trauma survivors, people in recovery and people hungry for a deeper spiritual connection in their life.
My hope is that today's episode will spark something inside of you, open your eyes and your heart to seeing something from another perspective and challenge you to bring more of your own personal story out into the light.  I think you'll enjoy today's episode with Father Michael Cassabon.
LISTENER ADVISORY: this episode may contain triggers for some. Topics in this episode include: sexual abuse, trauma, suicide, exorcism, addiction & conversion therapy 
For full show notes visit www.ThisLittleLightOfMine.CA  
Here's a rundown of our interview
(3:46) Being a Priest was my DRAG - Interview with Father Michael Cassabon
Father Michael Cassabon joins for a conversation about what it was like to grow up gay in the Catholic tradition. Michael shares his experiences attending seminary at the Vatican, talks about being outted, being labelled 'disordered' by the church for his same-sex attraction and what shifted in his life to help in love himself enough to get married to his husband. 
Michael's background:
(6:06) Catholic Church is the ONE true church
(8:08) My first sense of being "different"
(8:19) How I learned being gay was unacceptable
(10:50) Being gay pushed me further into my faith
(11:50) The first person I told that I was gay
(14:10) Going to school at The Vatican
(18:10) - Shun your same sex attraction
(22:45) Left handed boys are more apt to be gay
(24:50) Being DISORDERED
(27:55) I nearly killed myself while in conversion therapy
(30:30) It's a sin to question Father
(31:24) My father is dying of cancer
(35:20) Coming out to my Father 
(42:12) Being a priest was my drag
(50:28) We must be careful with religion around children
(1:00:30) If you can't love yourself
(1:01:20) What's next for Michael
(1:03:54) Rapid Fire Finish
(1:07:30) Show Close
What would your life look like if you had been born into a completely affirming world? eg – religious institutions were 100% affirming of LGBTQ people, no racism, discrimination, a world where everyone loved and respected each other.
Have you ever been told that you were unworthy, unwanted or unlovable? Who told you this and at what age? What impact did these messages have on your life?
We hope you enjoyed today's episode. If you did, please remember to share, rate and review.
We would also love to hear your thoughts, comments and opinions. Drop us a note [email protected]
You are loved.
James.
This Little Light of Mine - LGBTQ, Christianity, religious trauma, mental health
This Little Light of Mine is an LGBTQ+ tale of terror (growing up as a closeted Gay Christian in the Evangelical church) that led to trauma (cPTSD, religious trauma, spiritual abuse, sexual abuse, addiction) to what I intend to become triumph.
Join me on my healing and recovery journey towards mental health, spiritual health and emotional health as I find my voice by sharing what happened in my life as a Queer Christian where I was taught that I was not allowed to love.