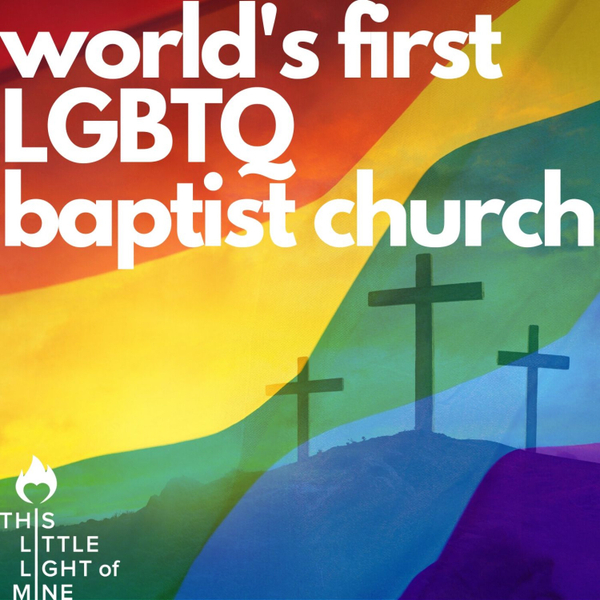 Welcome to the first episode of This Little Light of Mine.  My name is James Powell and I'm thrilled to have you join me on this personal journey of healing, discovery and possibility.  
For full show notes visit www.ThisLittleLightOfMine.CA  
Here's a rundown of S01E01:
(3:52) Chapter 1 – Starting the world's first, fully affirming LGBTQ Baptist Church
In the first part of my personal story, learn all the many things that fell into place that gave me self-esteem, strength and vision to allow this almost unbelievable transformation that to happen.
(22:23) Chapter 2 – Somewhere over the rainbow: Interview with Rev. Dr. Brent Hawkes
In the interview portion of today's episode I'm joined with civil rights & LGBTQ icon Rev. Dr. Brent Hawkes.  If you don't know Brent, he had the honor to officiate the first legal same sex marriages in the WORLD. He shares what his dream is for the church, advice for parents raising children in non-affirming churches and what he's building now to bring more love into the world… and how you can get involved.
(22:32) Brent's Top 5 Career Highlights
(22:45) #1 - Finding his people
(25:22) #2 - First legal same-sex marriages in the world
(27:54) #3 - State funeral for Jack Layton
Jack Layton was Canada's Nancy Pelosi/Joe Biden combination
(29:47) #4 - Order of Canada
(32:41) #5 - Individual Impact
(34:51) - Your sexuality is your gift from God
(36:52) - First feeling of shame for being gay
(39:40) - Finding my calling outside an adult bookstore
(40:50) - Praying away the gay
(54:40) - Guidance to parents raising children in non-affirming churches
(59:37) - Rainbow Faith & Freedom
(1:00:54) - Brent's Vlog
(1:06:40) - Who inspires Brent
(1:07:16) - Advice to the 8y/o Brent
(1:07:35) - What's stopping churches from affirming
(1:09:48) - Women in faith communities
(1:10:13) - The church needs to apologize
(1:12:48) - Share your voice questions
What would your life look like if you had been born into a completely affirming world? eg – religious institutions were 100% affirming of LGBTQ people, no racism, discrimination, a world where everyone loved and respected each other.
Have you ever been told that you were unworthy, unwanted or unlovable? Who told you this and at what age? What impact did these messages have on your life?
We hope you enjoyed today's episode. If you did, please remember to share, rate and review.
We would also love to hear your thoughts, comments and opinions. Drop us a note [email protected]
You are loved.
James.
Special thanks to Lisa M. Grey and Sound Mind Production for the strategic and loving production guidance for my very first podcast episode.
This Little Light of Mine - LGBTQ, Christianity, religious trauma, mental health
This Little Light of Mine is an LGBTQ+ tale of terror (growing up as a closeted Gay Christian in the Evangelical church) that led to trauma (cPTSD, religious trauma, spiritual abuse, sexual abuse, addiction) to what I intend to become triumph.
Join me on my healing and recovery journey towards mental health, spiritual health and emotional health as I find my voice by sharing what happened in my life as a Queer Christian where I was taught that I was not allowed to love.