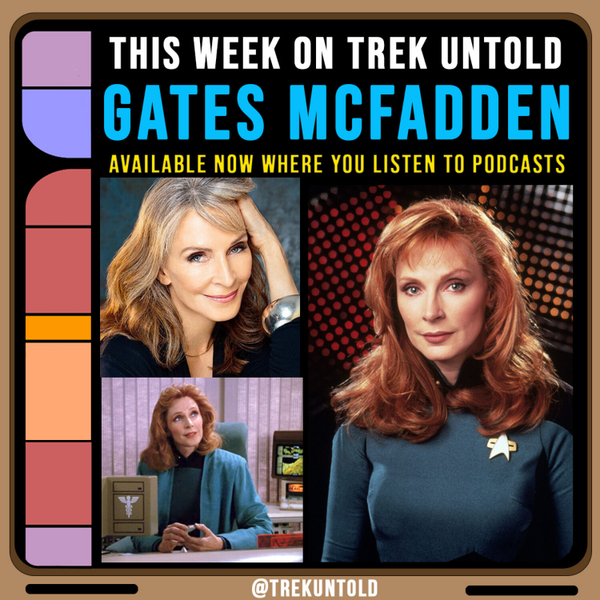 You know her best as Dr. Beverly Crusher from Star Trek TNG, and she's now the host of a brand new podcast from the Nacelle Company. Get ready to hear from Gates McFadden, and learn the secrets about her upcoming show, where she will be chatting with many of her former Trek cast members, including Jonathan Frakes, Wil Wheaton, and Michael Dorn, to name a few, who tell personal stories that you've never heard before.
In addition to her podcast, Gates tells us some great Star Trek stories, including discussions on some fan-favorite episodes like choreographing the dance scenes in "Data's Day" with Brent Spiner, her thoughts on the romance in "The Host," and having ghostly orgasms in the infamous "Sub-Rosa." Plus, working with The Muppets and being hazed by Kermit the Frog, what Gates thinks of her action figures, stories from her theater career, and the play she did with Patrick Stewart, Jonathan Frakes, Brent Spiner, and Colm Meaney during the last season of production on TNG, "Every Good Boy Deserves Favour."
Check out "Gates McFadden Investigates: Who Do You Think You Are?" starting May 12, where you listen to podcasts.
Visit Pancan.org to support the Trek against Pancreatic Cancer
Support Trek Untold by checking out our merchandise at https://teespring.com/stores/trekuntold or become a Patreon at Patreon.com/TrekUntold.
Trek Untold is sponsored by Triple-Fiction Productions, a US-based company that 3-D prints Trek-inspired prop replicas for fan films and cosplayers, as well as accessories and playsets for all iterations of Trek figures through the years. Visit them at Triple-Fictionproductions.net.
Don't forget to subscribe to the show and leave a rating if you like us!
The views expressed on air during Trek Untold do not represent the views of the RAGE Works staff, partners, or affiliates.
Follow Trek Untold on Social Media
Trek Untold is sponsored by Treksphere.com, powered by the RAGE Works Podcast Network, and affiliated with Nerd News Today.
Trek Untold: The Star Trek Podcast That Goes Beyond The Stars!
"Trek Untold" is the Star Trek podcast that goes beyond the stars! This show features guests including character actors, stunt performers, directors, writers, VFX artists, and the behind-the-scenes people who make the Star Trek universe boldly go where no sci-fi franchise has gone before.
The Trek Untold podcast is not endorsed by, sponsored by, nor affiliated with CBS, Paramount Pictures, or any other Star Trek franchise
Support Us
Become a Patreon