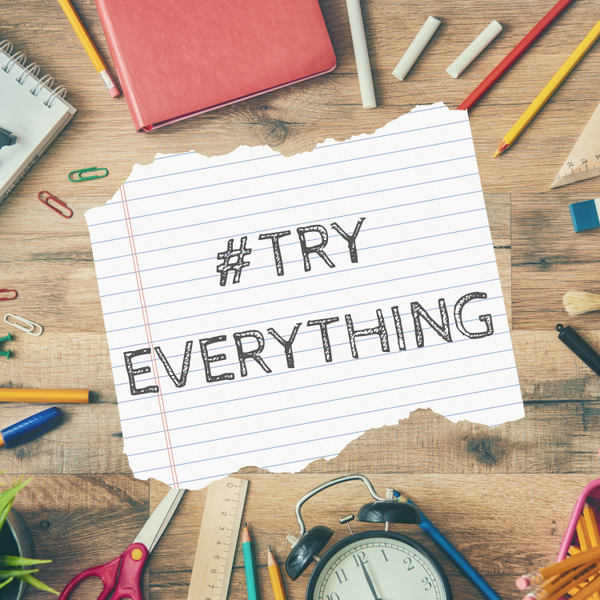 #TRYEVERYTHING
Building your Vision of Success: Cliff Neo shares how you can apply the principles of Chinese Astrology and Metaphysics in your life and career.
Hello! Welcome to the sixth episode #TRYEVERYTHING! In this episode we talk to a dear friend of mine, Cliff Neo, a Senior Customer Success Manager at LinkedIn who also happens to be deeply passionate about Chinese astrology and metaphysics, a.k.a 八字. He will share more about the how the craft has been misinterpreted in mainstream media, what values and principles we can apply from it, and also his winding life and career that has spanned from a background in engineering to starting a fashion business, and even a wild stint abroad in Hong Kong!
Highlights of the episode include:
·       Cliff shares about his background in engineering, and how he was initially lost with regards to his career before ending up in the recruitment industry [1:05]
·       Cliff talks about his growing disconnect with recruitment and sales, and how an astrology consult led him to a different role in Hong Kong [3:00]
·       How working abroad allowed Cliff the freedom to develop a new identity [6:34]
·       What the other side of freedom looks like, and how it took a toll on Cliff's health and career [7:51]
·       Why being in control of your time and energy matters [9:44]
·       Cliff describes his experience with setting up a men's fashion accessory business, and what he learned about the stark difference between business school theory and actual practice [11:59]
·       Why it is important to adopt an entrepreneurial-focused mindset towards yourself and your family [13:39]
·       Cliff shares about his current role in LinkedIn, and it opened his perspective on talent acquisition [17:26]
·       How family matters led Cliff back to Singapore despite having the opportunity to further his career in Shanghai [18:40]
·       What Chinese metaphysics and astrology is, and how it is misinterpreted in the mainstream media [20:07]
·       The importance of understanding your priorities, and building your vision of success [26:11]
·       How Chinese metaphysics and astrology has personally helped Cliff and developed his passion in it [29:49]
·       What Cliff would have done differently if he was given the chance [32:13]
·       Cliff shares more about his daily routine, and his current pursuits within the Chinese astrology field [34:05]
This episode's guest:
Cliff Neo is a Senior Customer Success Manager at LinkedIn and an aspiring practitioner of Chinese Astrology and Metaphysics.
Although Cliff holds a diploma in engineering, he never continued down that path and instead pursued other ventures including stints within the recruitment industry, entrepreneurial ventures, and an overseas role in Hong Kong. He would eventually return to Singapore to work with LinkedIn, and is currently also pursuing his interest and passion with Chinese Metaphysics and Astrology (八字).
Connect with us!
Host: Lauren Ong
Website: https://tfr.coach/tryeverythingpodcast/
Facebook: https://www.facebook.com/tfr.tryeverything/
Instagram: https://www.instagram.com/tryeverything.podcast/
Linkedin: https://www.linkedin.com/in/ohylauren/
Guest: Cliff Neo
Facebook: https://www.facebook.com/spiffmeister
Linkedin: https://www.linkedin.com/in/cliffneocl/
If you would like to share your story on this show do reach out and send an e-mail to [email protected]
#TRYEVERYTHING
Are you feeling stuck in your life? Lost and unsure of what to do? What do you do when you career stalls, your graduation plans crumble, or when you are in a quarter-life crisis? Well, you #TRYEVERYTHING!
Hosted by Lauren Ong, #TRYEVERYTHING is a show that shares the stories of those who've tried, and what they've found on their journeys to success. Through their winding tales of hardships, struggles, and failures, expect to come away with invaluable life lessons, career tips, and advice from Singapore's hidden mentors.
Let us help you find your path, if only you are willing to try!