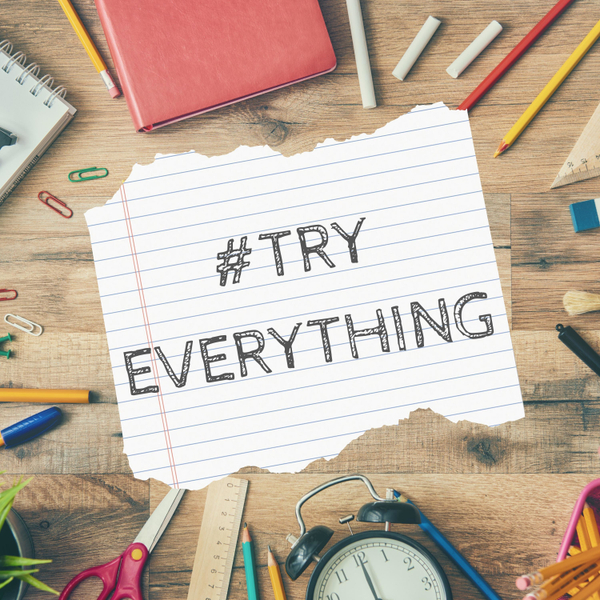 #TRYEVERYTHING
Unexpected Paths: Why Derek Koh Turned Down a Dream Trading Role for the Insurance Industry
S1E2
29:17
January 19th 2020
Hello guys! Welcome to the second episode of #TRYEVERYTHING! In this episode we talk to a friend of mine Derek, who has a pretty interesting experience with trying – from various part time jobs when he was younger, to joining the navy as a regular, financial trading, and finally into the insurance industry as a financial services director. On hindsight it was honestly hard to believe that he could go through such a journey having admitted to being an introvert but I guess you never know where life takes you if you keep trying! Also! This is only my second time recording in a proper studio so please mind my nerves, it will get better from here! Hope you enjoy!
This episode's guest:
Derek Koh is a Financial Services Director at Prudential Assurance Company Singapore.
He now manages a team of close to 100 people and maintains a busy schedule in serving clients and grooming leaders within his team. When he was younger, he used to work at various part time jobs in order to help his parents financially, and had even signed on to work in the Singapore Navy as a Regular for a number of years. He pursued his interest in trading during this time, applied and got offered his dream job as a Proprietary Trader with a local start-up, but rejected it because of an opportunity to take the management path within the Insurance industry.
Highlights of the episode include:
· Derek's background, his filial upbringing, and the various part time jobs he tried when he was younger [0:58]
· How he got into sales as an introvert, and what helped him to grow [2:00]
· How Derek got interested in trading, and how he developed his passion [4:19]
· The reason why Derek was offered his dream job despite failing the interview [5:31]
· What led Derek to give up on his dream job offer [9:12]
· Why Derek ended up in the insurance industry despite not liking it [10:59]
· A different perspective on the insurance industry: the leadership path [13:45]
· What qualities Derek looks out for in recruiting for his insurance agency [15:07]
· Why Derek does not regret giving up his dream job as a trader [17:09]
· How Derek overcame the lowest point in his insurance career [19:59]
· Derek's advice on how to approach life if you're trying to figure it out [21:50]
· What a day in the life of a financial services director looks like [23:16]
· How Derek finds balance in his hectic schedule [25:38]
Connect with us!
Host: Lauren Ong
Website: https://tfr.coach/tryeverythingpodcast/
Facebook: https://www.facebook.com/tfr.tryeverything/
Instagram: https://www.instagram.com/tryeverything.podcast/
Linkedin: https://www.linkedin.com/in/ohylauren/
Guest: Derek Koh
Website: www.facebook.com/derekkohorganisation
Facebook: www.facebook.com/derekkoh86
Instagram: www.instagram.com/derekkoh86
Linkedin: https://www.linkedin.com/in/derek-koh-1a79ba189/
If you would like to share your story on this show do reach out and send an e-mail to [email protected]
---
Send in a voice message: https://anchor.fm/lauren-ong/message
#TRYEVERYTHING
Are you feeling stuck in your life? Lost and unsure of what to do? What do you do when you career stalls, your graduation plans crumble, or when you are in a quarter-life crisis? Well, you #TRYEVERYTHING!
Hosted by Lauren Ong, #TRYEVERYTHING is a show that shares the stories of those who've tried, and what they've found on their journeys to success. Through their winding tales of hardships, struggles, and failures, expect to come away with invaluable life lessons, career tips, and advice from Singapore's hidden mentors.
Let us help you find your path, if only you are willing to try!