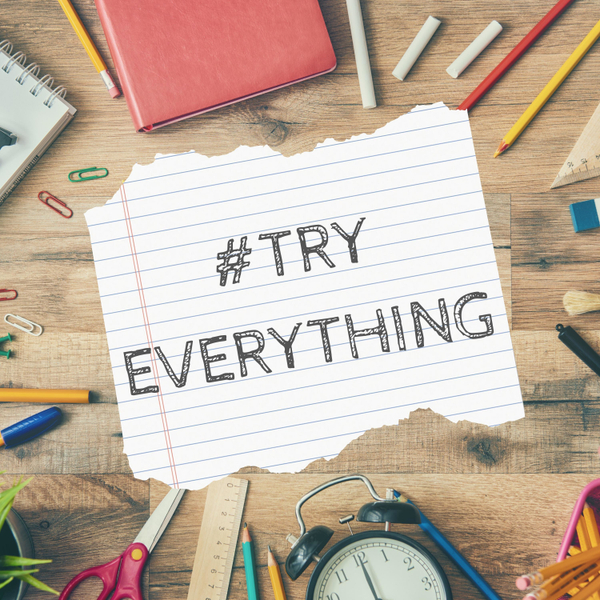 #TRYEVERYTHING
Why You Need To #TRYEVERYTHING: Things I've Learnt From My Roller Coaster Career
S1E1
33:18
January 5th 2020
Hello guys! Welcome to the pilot episode of my brand new podcast #TRYEVERYTHING! In this pilot episode my producer Danny thought it would be a good idea to give a personal background – WHICH IS LIKE A RESUME OF ALL MY ATTEMPTS AT TRYING BTW - as well as what this show aims to achieve. It was nerve-wracking since it is my first time being in a studio and recording a podcast but hey that's what the show is about isn't it? Hope you enjoy!
Highlights of the episode include:
· My background and the many roles that I am currently involved in [2:36]
· How I started my career in the recruiting industry [4:04]
· Why I left my first job, and how I got into the banking industry while chilling on the beaches of Melbourne [6:37]
· What I learned about working in a bank and how to manage changes and opportunities [9:43]
· How my past experience served as a foundation for my current roles advising HR practices [12:34]
· How my sister's death changed my world completely [13:25]
· My reason for starting the #TRYEVERYTHING podcast [16:00]
· Why you need to set your own metrics for success [19:23]
· My interpretation of the spirit of trying [22:48]
· Why this show is relevant for anyone under 30 [26:19]
· What to expect from the first season of #TRYEVERYTHING [29:29]
This episode's guest:
Danny is the founder of Fabl Productions, a podcast production company.
Until recently, Danny was an auditor at KPMG, crunching numbers and staring at excel sheets all day. In his spare time, he worked and cultivated his passion for podcasting through the Economical Rice Podcast and also the Podcast Spotlight, before he finally took the leap and pursued his passion fulltime. In just a few months, he has been featured in the local news, moderated a panel at the Singapore Writers' Festival 2019, and was part of the panel during the inaugural Asia Podcast Summit 2019.
Nowadays, he uses his experience in producing podcasts to help others find their voice, just like he has done for me! If you'd like to start a podcast of your own, you can reach out to him at [email protected]for a consultation.
Connect with us!
Host: Lauren Ong
Website: https://tfr.coach/tryeverythingpodcast/
Facebook: https://www.facebook.com/tfr.tryeverything/
Instagram: https://www.instagram.com/tryeverything.podcast/
Linkedin: https://www.linkedin.com/in/ohylauren/
Guest: Danny Koordi
Website: www.fablproductions.com
Facebook: www.facebook.com/fablproductions
Instagram: www.instagram.com/fablproductions
Linkedin: https://www.linkedin.com/in/danny-chrisnanto-koordi-240468a6/
If you would like to share your story on this show do reach out and send an e-mail to [email protected]
---
Send in a voice message: https://anchor.fm/lauren-ong/message
#TRYEVERYTHING
Are you feeling stuck in your life? Lost and unsure of what to do? What do you do when you career stalls, your graduation plans crumble, or when you are in a quarter-life crisis? Well, you #TRYEVERYTHING!
Hosted by Lauren Ong, #TRYEVERYTHING is a show that shares the stories of those who've tried, and what they've found on their journeys to success. Through their winding tales of hardships, struggles, and failures, expect to come away with invaluable life lessons, career tips, and advice from Singapore's hidden mentors.
Let us help you find your path, if only you are willing to try!