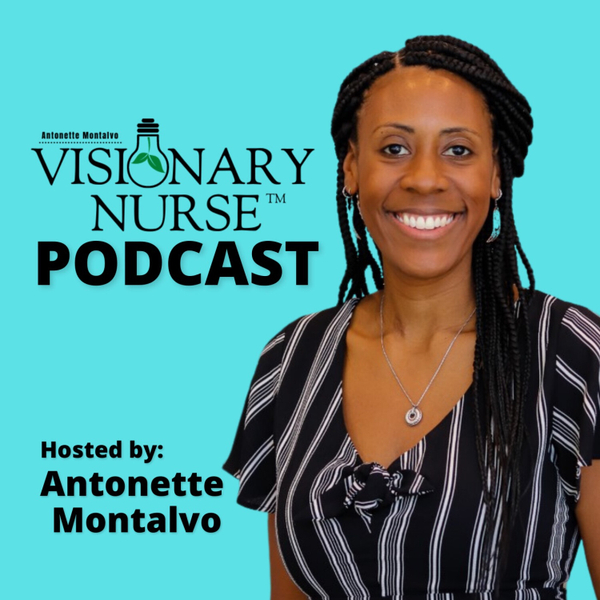 Visionary Nurse Podcast
Episode 04 - Power in Partnership: MakerHealth with Anna Young, CEO
S1E4
30:13
October 20th 2021
Welcome (back) to the Visionary Nurse™ Podcast! Presented by Antonette Montalvo Consulting and Coaching Services, and inspired by Montalvo International Community Health Initiative, designed to dare you to be influentially visionary!
In this episode of the "Power in Partnership" Series, I chat with Anna Young. Anna Young is a medical device archeologist. By taking apart medical devices, she learns how they work, how they don't work and how the ingenuity of providers at the point of care transforms how these same devices perform. She believes transparent and democratized design is the future of healthcare. As CEO and Co-Founder of MakerHealth, MIT Lecturer and Researcher, LinkedIn Top Health Innovator under 35, TEDMED Speaker, Fast Company Most Creative Business People, she has a vision. 
MakerHealth is reinventing the way health technology is designed and made. With access to first in class tools and an engaged community, nurses and clinicians will not only use health technology of the future, but will lead the creation of life-changing health devices for patients. 
The team at MakerHealth has been collaborating with nurses since 2008 to increase prototyping literacy and build a global portfolio of nurse-made devices for patient care. From the jungles of Ecuador and coffee farm clinics in Nicaragua, to the sleepless hospitals of London and NYC, MakerHealth democratizes access to health technology design and prototyping tools. It starts with you.
Through newly launched programs at MakerHealth, you can finally turn the health technology into something you can hold in your hand. The MakerHealth Academy program gives clinicians access to personalized learning and prototyping tools to create. From the ideas to improve wound care applications to new approaches to detect sodium levels in pediatric patients, the program is open to support all technology ideas. You'll access world class tools from health design and fabrication experts, to lead the vision and creation of your project. Fellowships for MakerHealth Academy exclusively for nurses can be applied for here before November 1st. 
For health care systems, MakerHealth is offering sponsored licenses for MakerHealth Create Cloud program for qualifying hospitals or community health centers that want to enhance the natural problem solving abilities that involve creating new tools and technology. When teams of clinicians have the materials, permission, and space to create, an ecosystem of innovation flourishes at the point of care. 
Did you enjoy this episode? Like, share, subscribe, and follow wherever you listen to your podcasts🎧. And, don't forget to check out the episode on the Visionary Nurse™ YouTube channel or follow me @visionarynurse on Instagram or Facebook for details on how to tune in! 👩🏾‍💻
#visionarynurse #visionaryvibes #innovation #MakerHealth #powerinpartnership #annayoung #Nursespodcaster
Disclaimer: Antonette Montalvo, Visionary Nurse™, or any subsidiaries, affiliate companies or organizations associated with Antonette Montalvo cannot be held liable for the information presented in this podcast. This content was created for informational purposes only. Results may vary and adherence to the suggestions made herein do not guarantee results. Please note that this information is not business, financial, or nutritional advice, nor is it intended to replace such advice. Before beginning any professional or personal changes, you should seek advice from your trusted, certified professionals and advisors. Additionally, viewing this account does not create any type of client-consultant relationship between you and us. ANTONETTE MONTALVO is not responsible for any liability, loss, or damage caused or alleged to be caused directly or indirectly as a result of the use, application, or interpretation of the content. Please enjoy at your own discretion!
NOTES: Views expressed are my own! MakerHealth logo used with permission.
Visionary Nurse Podcast
Welcome to the Visionary Nurse™ podcast! The purpose of the podcast is to accompany the work I do as a Community Health Consultant and Coach and Mentor for Nurses, and designed to educate, uplift, and support each other as we dare to be influentially visionary! 
As there are so many shifts in healthcare, and nurses are looking to innovatively expand their knowledge for cross-sectoral collaboration, this podcast shares the journey and experiences of visionary nurses, entrepreneurs, business and community leaders involved in improving health by being change agents in their spheres of influence.
Support Us
Support the Visionary Nurse® Podcast! Presented by Antonette Montalvo Consulting and Coaching Services, and inspired by Montalvo International Community Health Initiative, this podcast was designed to educate, uplift, and support you as we dare to be influentially visionary!
Donate with