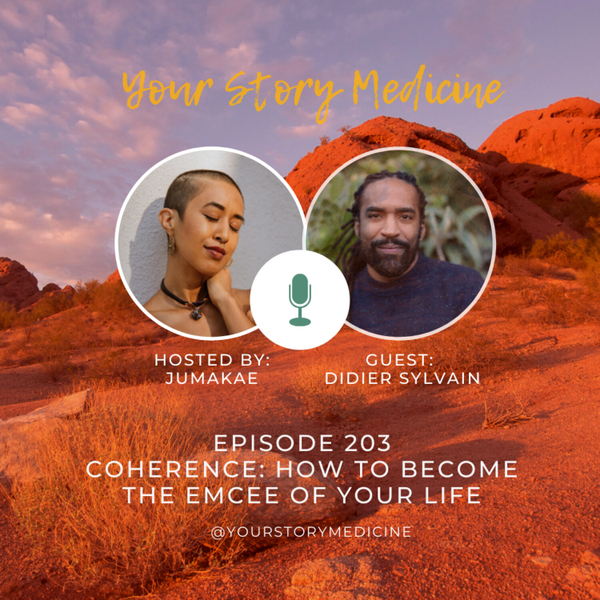 Your Story Medicine
Coherence: How to Become the Emcee of Your Life with Didier Sylvain
S2E59
47:11
April 26th 2022
In this episode of Your Story Medicine, I welcome Didier Sylvain, a life alignment coach, leadership trainer, and creative healing practitioner based in Los Angeles. His life mission is to create and hold transformative learning space for people to claim their power and give their greatest gifts to the world. He leads Coherence, a leadership activation experience for creatives-of-color, as well as other deep dive programs that guide individuals and groups to become fuller and more integrated versions of themselves. He has coached and taught leadership at Carnegie Mellon University and the University of Notre Dame. Didier is also a multidisciplinary artist, music producer, PhD candidate in Ethnomusicology (Columbia University), and certified practitioner of sound healing and qigong.
Main Topics Discussed:
Celebrating the voice you were gifted with
Finding the force (ex. music) that integrates every part of you
How to emcee your life
Achieving coherence
Learn more about Didier:
Visit his website: www.didiersylvain.com
Follow him on Instagram: www.instagram.com/__didiersylvain__
Flyscapes https://open.spotify.com/album/5FAx7Vx4Ukd4tyurzecRLa?si=ad39182e0ecb41bc
Email me at [email protected] or send me a message on Instagram @jumakae.
Download my free guided meditation on how to connect with your ancestors  bit.ly/ancestorinthemaking
Join us for our FREE workshop on Finding Clarity In Your Medicine on Thursday, April 28, 2022:
Your Story Medicine
Your Story Medicine is a weekly interview series with changemakers and entrepreneurs in the field of coaching, the arts, and wellness. Join June Kaewsith, also known as "Jumakae," as we explore how storytelling has the power to liberate. Expand upon ways to understand and practice self-care. Challenge the definition of what it means to be a "healer." Step into entrepreneurship as a sacred form of activism and decolonization. Reflect on one's responsibility in the wellness and coaching industry. Gain the confidence to explore and create new stories for your life. Get ready to do the work to make your ancestors proud, including the ones before us and the ones who have yet to come!
Support Us
Donate with