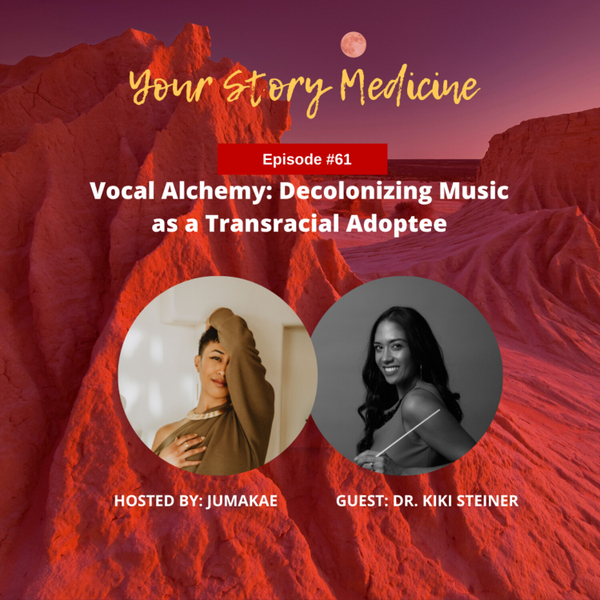 Your Story Medicine
Vocal Alchemy: Decolonizing Music as a Transracial Adoptee with Dr. Kiki Steiner
In this episode of Your Story Medicine, I welcome Dr. Kiki Steiner, DMA, (she/they/siya [sha]) a holistic vocal coach, decolonization consultant, and choral conductor. She is currently serving as an adjunct instructor of music at Millikin University in the Choral Conducting and Music Education area. As the founder of Decolonizing Kiki LLC, her work as a holistic vocal coach focuses on empowering others to connect with their voice through releasing shame around one's voice as well as facilitating self-led healing.
Main Topics Discussed:
Life as a "transracial adoptee"
Using your voice to manifest liberation for your community
Rerooting oneself in a predominantly white culture
Learn more about Kiki:
Visit her website: www.decolonizingkikillc.com
Follow her on Instagram: https://www.instagram.com/decolonizing_kiki
Email me at [email protected] or send me a message on Instagram @jumakae.
Download my free guided meditation on how to connect with your ancestors  bit.ly/ancestorinthemaking
Apply to the summer cohort of Roots to Rise (final one of the year!) : www.yourstorymedicine.com/roots2rise
Your Story Medicine
Your Story Medicine is a weekly interview series with changemakers and entrepreneurs in the field of coaching, the arts, and wellness. Join June Kaewsith, also known as "Jumakae," as we explore how storytelling has the power to liberate. Expand upon ways to understand and practice self-care. Challenge the definition of what it means to be a "healer." Step into entrepreneurship as a sacred form of activism and decolonization. Reflect on one's responsibility in the wellness and coaching industry. Gain the confidence to explore and create new stories for your life. Get ready to do the work to make your ancestors proud, including the ones before us and the ones who have yet to come!
Support Us
Donate with