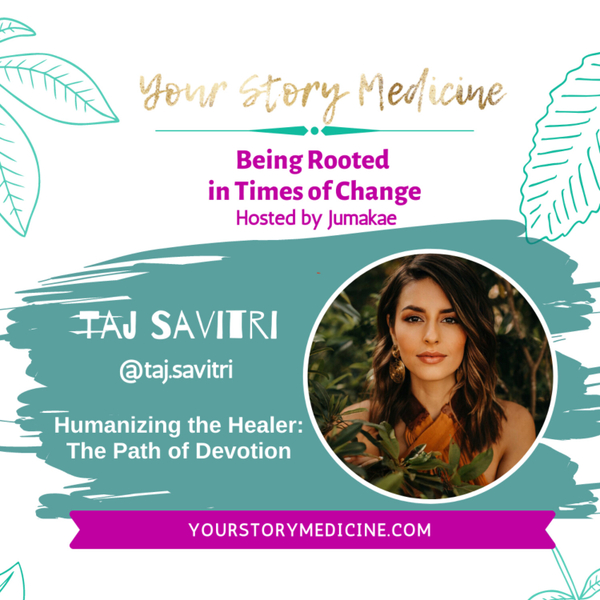 Your Story Medicine
Humanizing the Healer: The Path of Devotion with Taj Savitri
S1E52
1:18:11
November 9th 2021
In this episode of Your Story Medicine, I welcome Taj Savitri. She is known as a "Business Priestess" for her ability to support future female leaders of our planet bridge into the physical concepts and ideas that cannot yet be understood by the human mind. Her gifts of psychic mediumship and understanding of the holographic nature of reality makes her work in leadership, business, and inner evolution truly unique. Her work has helped thousands of women step into a level of wealth that overflows into projects that help create a more loving and unified planet, anchored in service. She also serves as Mexican Medicine Woman, Conscious Investor of the "New World', and an influential figure for Ascension. When she is not in High Priestess mode, she is developing "Mother Tree", an intentional 22 Acre community on Maya land in Tulum, MX.
Main Topics Discussed:
How to reclaim your ancestral lineage and the gifts that they possessed if you have no physical connection to those ancestors
How to express or teach wound healing your own way without appropriating the customs of other cultures
How to embrace your unique path of mastery and stop becoming a slave to other people's truths.
Conclusion: Embrace your path of mastery by learning to trust yourself. Take note of what every emotion and experience teaches you about yourself, about others, and about the world. Instead of looking to hire coaches or mentors all the time, learn to trust the voice within yourself. And your best voice comes through when you're at the zero point when you feel good and at home in your body.
Action Integration: Get to your zero point by solidifying your daily rituals and practices. We put ourselves in danger when we let our mind sway us to and fro according to the latest distraction or heightened emotion that leads us astray from our path. Reconnect to your truth every single day and everything will fall into place.
Learn more about Taj:
Visit her website: www.tajsavitri.com
Follow her on Instagram: www.instagram.com/taj.savitri
Your Story Medicine
Your Story Medicine is a weekly interview series with changemakers and entrepreneurs in the field of coaching, the arts, and wellness. Join June Kaewsith, also known as "Jumakae," as we explore how storytelling has the power to liberate. Expand upon ways to understand and practice self-care. Challenge the definition of what it means to be a "healer." Step into entrepreneurship as a sacred form of activism and decolonization. Reflect on one's responsibility in the wellness and coaching industry. Gain the confidence to explore and create new stories for your life. Get ready to do the work to make your ancestors proud, including the ones before us and the ones who have yet to come!
Support Us
Donate with