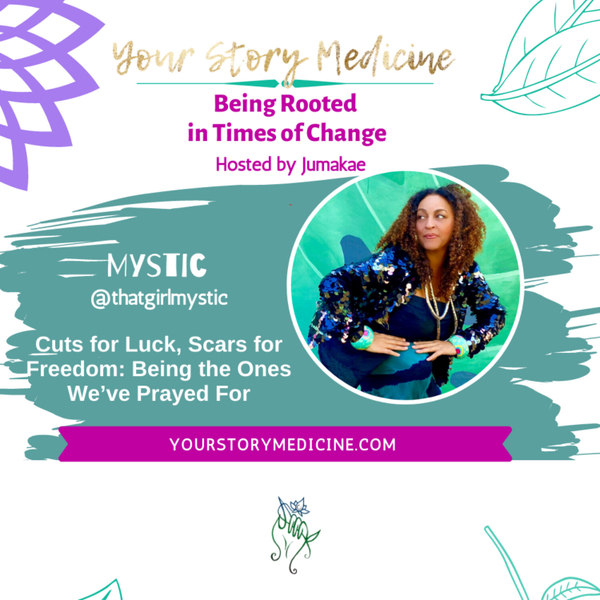 Your Story Medicine
Cuts for Luck, Scars for Freedom: Being the Ones We've Prayed For with Mystic
S1E55
1:32:01
November 30th 2021
In this episode of Your Story Medicine, I welcome Mystic, a Grammy-nominated hip hop artist. She is also an activist, scholar, community educator, and beloved daughter of Oakland, California. Having released her debut album, Cuts for Luck and Scars for Freedom in 2001, and Beautiful Resistance in 2014, she is known for including themes of healing, community, and justice in her music. She is also known as a member of Digital Underground, and called the "DU Goddess". As a scholar, Mystic's research has focused on the use of policymaking for equity and elementary education, and the use of culturally-relevant arts education for students of color.
Main Topics Discussed:
Mystic's journey as an artist, her work with Digital Underground, and her initiative for the youth
Living out love and joy as acts of resistance
How artists typically process trauma
The underrated value of arts education for the youth
Rewriting your story from one defined by trauma to one defined by love
Learn more about Mystic:
Follow her on Instagram: www.instagram.com/thatgirlmystic
Your Story Medicine
Your Story Medicine is a weekly interview series with changemakers and entrepreneurs in the field of coaching, the arts, and wellness. Join June Kaewsith, also known as "Jumakae," as we explore how storytelling has the power to liberate. Expand upon ways to understand and practice self-care. Challenge the definition of what it means to be a "healer." Step into entrepreneurship as a sacred form of activism and decolonization. Reflect on one's responsibility in the wellness and coaching industry. Gain the confidence to explore and create new stories for your life. Get ready to do the work to make your ancestors proud, including the ones before us and the ones who have yet to come!
Support Us
Donate with