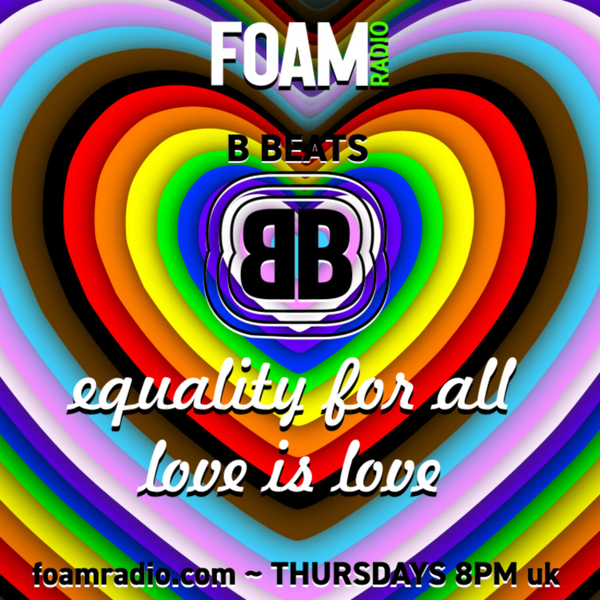 B BEATS on FOAM RADIO
B BEATS - O.P.Groover eclectic electric! Tech House / Acid Techno / Breakbeat / Trance
Listen back to B Beats on FOAM Radio 24 June 2021.
O.P.Groover brings 2hrs, live in the mix, upbeat tech house, acid techno, breakbe3at and trance - party vibes for Pride month celebrations everywhere. Equality for all. Love is love. Standing with all those who are fabulous in the face of fear.
-
-
full tracklisting: https://soundcloud.com/opgroover/b-beats-foam-radio-29-opg-2hr-eclectic-electric
-
-
B Beats resident dj's on rotation ~ Thursdays 8pm-10pm (uk) foamradio.com
Follow us this way>>>>
instagram.com/b_beats_buzz
facebook.com/bbeatsmusic
mixcloud.com/bbeatsmusic
twitter.com/bbeatsmusic
B BEATS on FOAM RADIO
B BEATS resident DJ's on weekly rotation, with special guests.
Journey into 2 hours of quality eclectic beats: electronica, deepest house, via tech to techno, breaks and more...
Broadcast live on FOAM RADIO Thursdays 8pm-10pm Uk, 3pm EST, Midday PST.
B BEATS is a dj collective based in Brighton, Bristol, Brixton & beyond. With a shared passion for beats, bass & bringing people together, they've hosted club fundravers for bee conservation & held parties in fields for their B BEATS community.