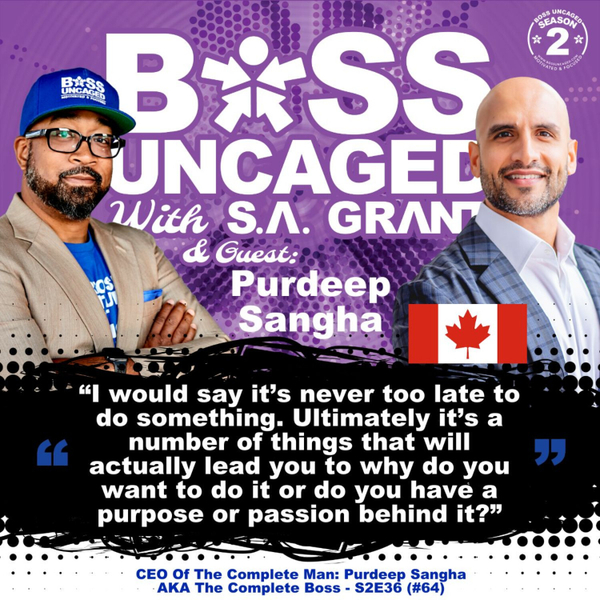 BOSS Uncaged
CEO Of The Complete Man: Purdeep Sangha AKA The Complete Boss - S2E36 (#64)
CEO Of The Complete Man: Purdeep Sangha AKA The Complete Boss - S2E36 (#64)
"I would say it's never too late to do something. Ultimately it's a number of things that will actually lead you to why do you want to do it or do you have a purpose or passion behind it?"
In Season 2, Episode 36 of the Boss Uncaged Podcast, S.A. Grant sits down with the CEO of The Complete Man, Purdeep Sangha.
The Complete Man offers private and discrete business and personal performance advice for high-level male corporate executives, business owners, entrepreneurs, professionals, and men from all walks of life. Purdeep's personal mission is to help men grow their businesses massively, increase their personal fulfillment in life and improve their relationships with their wives and kids.
Purdeep started his journey towards success in corporate America. With an upward trajectory towards the CEO position in focus, Purdeep worked in many areas of the corporate footprint to be seen as a more well-rounded executive. But instead of continuing on this path, Purdeep decided to jump ship and transition into his own consultancy agency, which aligned more with his passion.
"And then one day I just literally was tired of it, and I said, I'm done. I walked into work, and I quit, and I started my consulting and coaching firm and haven't looked back since. In our consulting practice, we work with many different industries, and in many different areas, from marketing to operations to all the things that I talked about before. But my passion is specifically coaching entrepreneurs, executives, and professionals, specifically men."
Don't miss a minute of this COMPLETE BOSS episode covering topics on:
The importance of including family in your morning routine.
A beautiful story on the power of familial influences.
Why Purdeep chose to focus his consulting business towards men.
And SO MUCH MORE!!!
Want more details on how to contact Purdeep or how to join Creators Learn? Check out the links below! 
Website  https://purdeepsangha.com  
LinkedIn https://www.linkedin.com/in/purdeepsangha/ 
Twitter https://twitter.com/PurdeepSangha
Instagram https://www.instagram.com/purdeepsangha/ 
Podcast https://purdeepsangha.com/podcast/ 
Product/Service https://purdeepsangha.com/tcm-productivity-system/  
THANK YOU FOR LISTENING!
Just speak to your Alexa-enabled device and say, "Alexa Open Boss Uncaged."
Also available on Apple Podcast, Spotify, iHeart Radio, Amazon, Google podcast, and many other popular podcasts apps.
#SAGrant #Quote #BossUncaged #Business #founder #entreprenuer #consultant #businessconsultant #consultants #consultantlife #businesscoach #businesscoaching #onlinebusinesscoach #smallbusinesscoach #education #businesseducation #successmindset #champion #successminded #success #successfulmindset #successtips #podcaster #podcasting #podcast #author #authorsofinstagram #authorlife #indieauthor #aspiringauthor
Remember to hit subscribe so you will get instant updates. Leave us a review, we would love to get your input on the show.
Because we want to hear from you and would love your feedback, leave us a message at 762.233.BOSS
Boss Uncaged
S. A. Grant, a Growth Strategy and the host of the Weekly podcast Boss Uncaged, interviews business owners to uncover the keys to their success stories. 
Releases the origin stories of Business owners as they BECOME UNCAGED TRAILBLAZERS, UNCONVENTIONAL THINKERS, UNTETHERED TRENDSETTER, and UNSTOPPABLE TYCOONS.
We always hear about the overnight success stories that take 20 years to become a reality. Our host S. A. Grant constructs narrative accounts through the voices and the stories behind Uncaged Bosses. 
In each episode, Guests come from a wide range of backgrounds and share diverse business insights. Learn how to release your primal success through the words of wisdom from inspirational entrepreneurs and industry experts. As they depict who they are, how they juggle their work-life with family life, their successful habits, business expertise, tools, and tips of their trade.
Meet the Hosts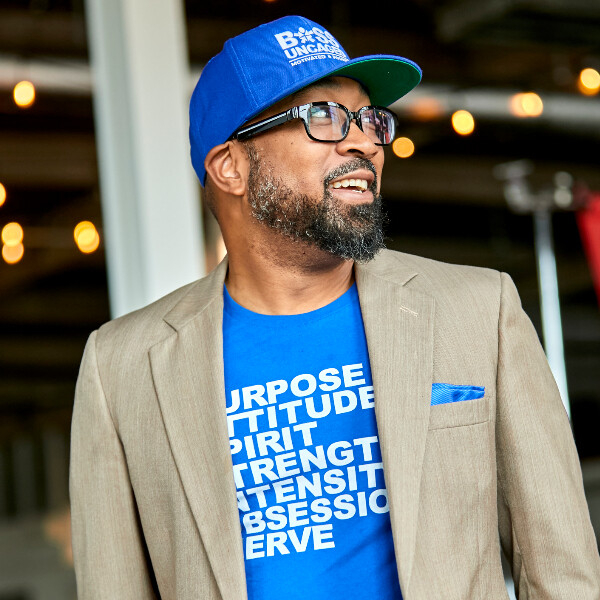 My name is S. A. Grant. I have 20 years of experience in helping businesses grow. My company's focus is helping you create strategy and tactics that consistently generate more revenue, build your business' online presence, and create systems.
We are an award-winning business growth strategy agency that gets results for our clients. We've helped them turn visitors into lifelong customers.
Support Us
Donate with