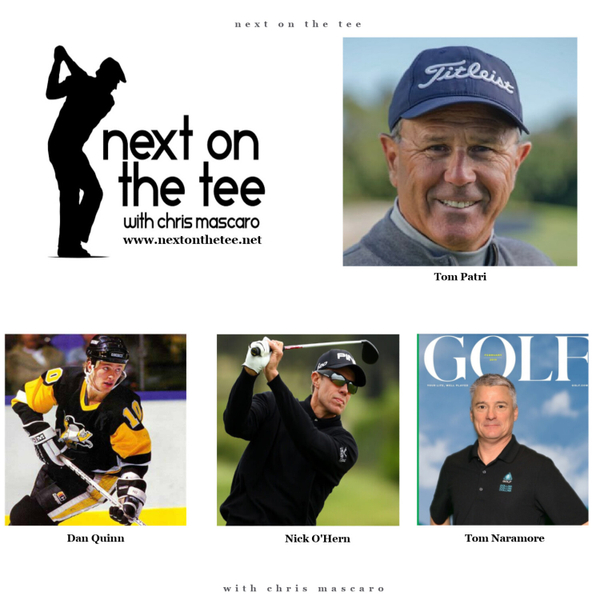 next on the tee with chris mascaro
Talking Masters with Tom Patri, Nick O'Hern, & Dan Quinn, Plus D3 Golf Co-Founder Tom Naramore Joins Me...
S7E481
1:24:09
November 25th 2020
This week we look back at The Masters with Top Instructor Tom Patri, PGA Tour Pro Nick O'Hern shares his experiences playing in the Tournament and former Tour Caddie, NHL Star, and Celebrity Tour Champion Dan Quinn talks about being on the bag for Ernie Els in the 2010 Masters.
Nick also brought Tom Naramore along to talk about the app that Tom is Co-Founder of D3 Golf, which allows you to challenge your friends of even Nick to a match even if those friends or Nick are all the way across the country.
next on the tee with chris mascaro
Hear Golf's Greatest Legends, Players, & the Top Instructors in the Game Sharing Their Stories, Insights, & Playing Lessons.
Next on the Tee is all about giving the game's greatest players the opportunity to open up and share their stories. You'll hear what it was like competing against other great players, plus in major championships. How did they deal with the pressure? What was it like being a part of those events? You'll get insights into what's going on in the game now. The Top Instructors in the game also join me and share playing lessons to help you lower your scores and have more fun.
Check out our Web site, www.nextonthetee.net, to stay up-to-date with our guest schedule plus what's happening with the show. Make us a part of your regular golf content to hear all the best the game has to offer.