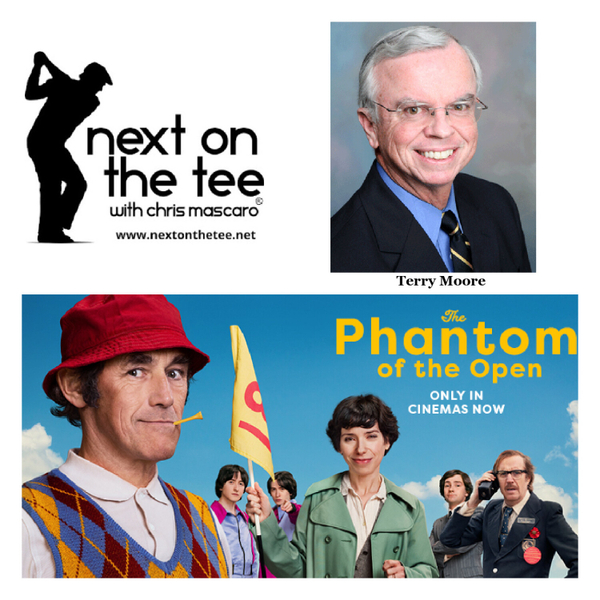 Terry Moore is a very prominent figure in the Michigan golf scene and is a member of the Michigan Golf Hall of Fame. Early in his career, he started several media outlets including Michigan Golfer magazine and the All About Golf radio show. You'll also see Terry portrayed in the new movie, "The Phantom of the Open" starring Mark Rylance and Sally Hawkins.
Terry and I start our conversation by going back to the beginning of when he first fell in love with the game. We hear the stories of how he got the magazine and radio going. We also hear what it was like being inducted into the Michigan Hall of Fame. Terry lets us in on some of the great courses you'll find in Michigan and why he's involved with The Phantom of the Open; including being portrayed by Actor Michael Capozzola in a couple of pivotal scenes.
next on the tee Golf Podcast
2021 w3 Gold Award-Winning Sports Podcast. Hear Golf's Greatest Legends, Players, & the Top Instructors in the Game Sharing Their Stories, Insights, & Playing Lessons.
If you love golf, each week I'm joined by the game's greatest legends plus the top Instructors in the game, who share stories from the tournaments they won, they nearly won, or great moments they witnessed. What to lower your scores? The Top Instructors in the game share playing lessons to help you play better, improve your mental game approach, and have your buddies reaching for their wallets on the 19th hole.
Check out our guest schedule and more on our Web site, www.nextonthetee.net. Thank you for making the show a part of your golf content.
Meet the Host
I have a passion for golf that started when I was 12 years old playing with my father. I took lessons with a gentleman named Ken Friend at Tides Golf Club in Seminole, Florida, and I have loved the game ever since. I grew up idolizing Jack Nicklaus. The '75 & '86 Masters remain two of my favorite sports memories.
Gary Player has been a big influence in my life, not only in my golf game but also regarding health and nutrition. As I said to Mr. Player recently, every time I'm tempted to go to the freezer for a bowl of ice cream, it's his voice that I hear in my head saying, "come on man that's poison!" ​Mr. Player has become a wonderful friend since first joining back in 2014.
Augusta National is my favorite place on the planet. Attending The Masters tournament is one of the highlights of the year. I cherish walking those hallowed grounds. It gives me a feeling of wonder and excitement that has become a part of me and I never want it to leave.
I was born in Pittsburgh and the Steelers, Penguins, and Pirates are in my DNA. I also lived outside of Boston for several years and spending time at Fenway Park and the Boston Garden, the Red Sox, and Celtics got into my soul.​
Tranquil late afternoon rounds of golf with my father and son are a joy and my favorite time to play. My annual golf trip with my buddies is always another highlight of the golf year. I also enjoy going to our local PGA Tour SuperStore and testing out new equipment with my son; it's one of our favorite things to do together.​​
You can follow me on Twitter and Instagram @ctmascaro and the show @nxtonthetee. You can interact with me on the show's Facebook page. If you have a question for one of my upcoming or previous guests, please let us know via social media and I'll gladly get that question answered for you. ​
I have been privileged to have great players like Hal Sutton, Mark Calcavecchia, John Cook, Tim Simpson, Donnie Hammond, Chip Beck, Scott McCarron, Frank Nobilo, Ian Baker-Finch, Mark Wiebe, Olin Browne, Suzy Whaley, Dottie Pepper, Cindy Miller, Jane Blalock, Tom Purtzer, Shaun Micheel, Rick Fehr, Dave Stockton, Dave Stockton Jr., Billy Mayfair, Jim Gallagher Jr., plus several others become regular guests and friends. Join us each week to hear them tell their stories.