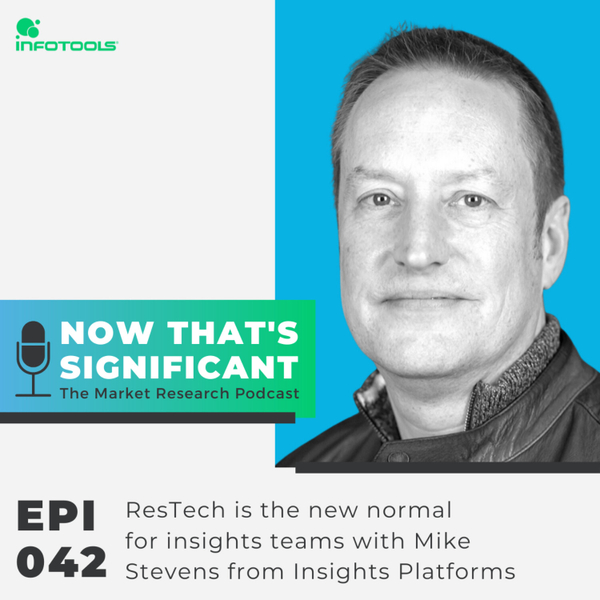 Now that's Significant
ResTech is the new normal for insights teams with Mike Stevens from Insights Platforms
E42
31:45
November 22nd 2022
In this episode of Now that's Significant, we were joined by market research and insights technologist, Mike Stevens, from Insights Platforms. 
We discussed:
> The subject of ResTech, otherwise known as market research and insights technology, and how it is the new normal for insights professionals.
> ResTech is a term that has been floating around for a while now, Mike gave us a good understanding of what it is and where it sits in our daily lives.
> The challenge insights functions have in choosing either ERP/all-in-one generic software or fit-for-purpose, market research-specific technology.
> We touched on who is buying ResTech and how this compares to selecting agencies, briefly touching on the skills gaps that non-research users have.
> We dived into the buying journey and behavior for different types of market research data, which included reasons why ResTech buyers may 'fall out' of the sales process.
> Mike discussed how agencies fit into the world of ResTech, and also what the future holds in this space.
We hope you enjoy the show.
Now that's Significant
Now that's Significant is a podcast focused on inspiring and educating Market Researchers as they seek to tackle pertinent challenges impacting the insights sector, as well as make the most of the many opportunities we're facing to deliver greater value to our stakeholders.
The team from Infotools rotate the hosting responsibilities to bring a range of passion, experience, energy, and views to the show.
Check out transcribed episodes on our website at Infotools | Podcasts