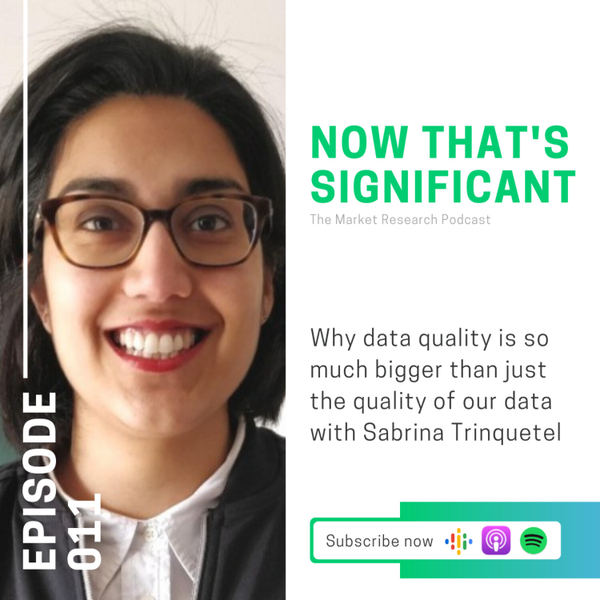 Now that's Significant
Why data quality is so much bigger than just the quality of our data with Sabrina Trinquetel
This episode features Sabrina Trinquetel , U.K. Sales Director at Measure Protocol, a behavioural data collection organization. Sabrina, an insight and sales professional with a passion for great research, has held leadership roles at some of the top market research companies in the world over the past 10 years, and is committed to bettering the industry while also focusing on growth initiatives for Measure. She is co-chair of the Market Research Society's Pride group and co-hosts its OUTsights podcast. She also sits on the MRS's DI&E Council and Representation in Research steering group. 
In this episode, we discuss:
> How data quality is so much more than just the quality of our data, as it requires a concerted effort not just in how we're collecting the respondent data, but also who is collecting, analyzing, and distributing the insights too.
> We discussed the need to be cognizant of data privacy, as the lack of it being front and centre in our efforts will lead to an erosion of trust with respondents, the market, etc.. In turn, our research won't result in much except a loss of reputation within the organization.
> We explored privacy-first design, how organizations are achieving this, and what results they are realizing by doing so.
> We talked about the need to be a truly diverse, equal, and inclusive business. Not just because it's the right thing to do, but also because our insights are going to be far more effective and representative of the world.
> And finally, we undertook a little thought experiment to see the difference between organizations who truly embrace DEI and those two continue doing market research as we've always done it.
Enjoy the show.
Now that's Significant
Now that's Significant: The market research podcast brings together the greatest minds in the insights industry to discuss the pertinent challenges and opportunities we're facing.
The team from Infotools rotate the hosting responsibilities to bring a range of passion, experience, energy, and views to the show.
Check out transcribed episodes on our website at Infotools | Resources