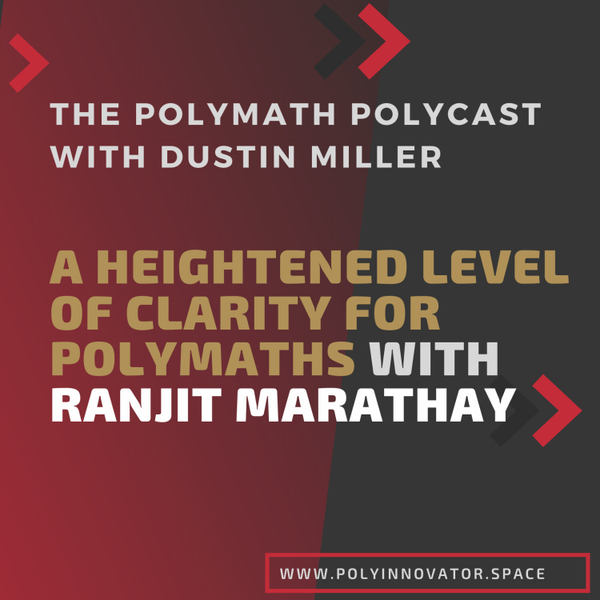 Hello Innovators! I am Dustin Miller PolyInnovator. Today we are talking with Ranjit Marathay from GetPolymath A polymathic productivity planner!
"The Battle of what you Think you want vs. what you Actually Want"
"It's the Battle Against your Ego"
Links:
https://www.instagram.com/ranjitmarathay/
https://www.instagram.com/getpolymath/
https://www.linkedin.com/in/ranjit-marathay/
https://twitter.com/getpolymath
https://twitter.com/RanjitMarathay
Timestamps:
0:00 Intro
2:30 What was Ranjit's Mindset prior to all his endeavors?
5:00 Brain to Computer Ideal Connection #efficiency
8:20 Detachment and Observation of your Emotions
10:50 Living in Multiple Cities
12:30 The Super Connector
https://pod.co/polycast/the-rise-of-the-super-connector-with-nate-peo-the-polymath-polycast
13:30 Swimming Tips!
16:00 Ultrawide Monitors
19:30 Productivity Planner
28:00 It's Not WHAT you do it is HOW you do it
30:30 What is a Polymath to You?
36:00 Modern Polymath
38:00 Status and Sums
40:00 Effective Investing
44:00 Gaining clarity through context
47:30 How to gain clarity on life?
51:00 Four Pillars Philosophy
53:00 Guy Talk
55:00 There is no one size fits all to spirituality
55:55 Always known he was going to go into business
01:00:00 Your Hobby can Become Your Business
01:02:30 Lone Geniuses Fail
01:05:00 Rise of the Polymath Planner
01:07:00 Habits and Actions
01:09:00 Modular Degree Education
01:12:00 Build a Solid Foundation
01:17:00 What do you think? #CHOICE
01:20:00 The Workplace is What skills do you bring to the table?
01:22:00 Just Start doing things
01:24:00 Outro
The Polymath PolyCast with Dustin Miller
This show is for the polymathic, the entrepreneurial, the multipotentialites, and the Innovators!
Now on Season 6!!
PolyInnovator (The overarching personal brand that the PolyCast is under), means Innovation Polymath, or future global changemaker. Created a Modular Degree curated with online courses and micro-credentials. You will find topics wide ranging in interests!
PolyInnovator works in #PolyInContent sprints, which are like multi/omni channel episodes. So each release gets a OmniBlog Post, TeleInnovator Video, and PolyCast upload! :D
-----------------------------------
Between the OmniContent, and the guest interviews I have on the show, there are multiple formats for the #PolyCast. It can get a little confusing, so here is the series that you will see:
Fireside Micro-PolyCast
Bits of idea bursts, rants, explanations, and simply short form 3-10min episodes.
PolyCast
These don't happen often, but they are the medium sized episodes that may have a didactic feel to them. They are solocasts, with a bit of flare.
OmniContent
Each episode of the Omnicontent series starts with a blog post, turns into a slideshow, then a video, and with the video I extract the audio and turn it into a PolyCast!
The Polymath PolyCast Interviews
The interview and guest arm of the show, these episodes tend to be much longer, as they are interview discussions. They have been great, and the nuggets of knowledge anyone can get from them have been insanely awesome.
All in all they keep a similar polymathic feel, and stay true to the "Niche".... However the subniches can be essentially anything. Meaning the topics could be as well, so don't worry if one episode doesn't fit the bill. I'm sure another one will hit it out of the park!
Support Us
Join PolyPRO and get access to even more content behind the veil!