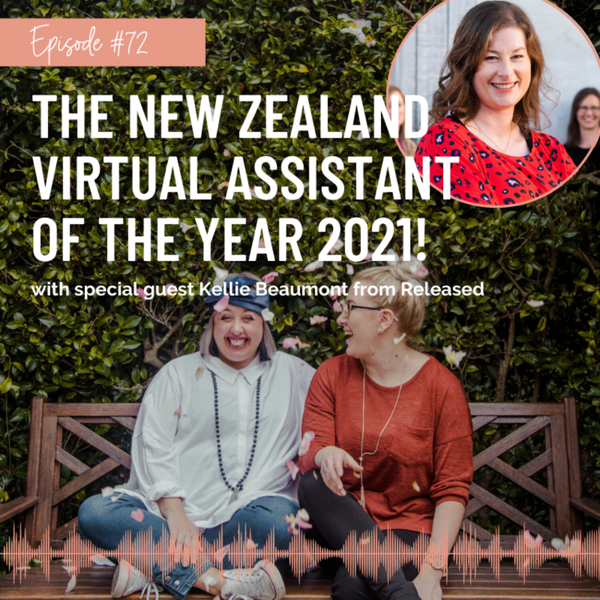 The Sam + Jo VA Show
#72 The New Zealand Virtual Assistant Of The Year 2021!
S1E72
1:07:15
September 29th 2021
Just days after walking away with Best VA Speciality or Niche, Top Performing VA Agency AND The Virtual Assistant of the Year Award, Kellie Beaumont from Released sat down with us to share her journey from primary school teacher to award winning virtual assistant agency owner.
The 2021 NZ VA Awards was an online event like no other.  There was laughter, tears, banter, llamas, in-jokes galore … but most importantly it brought together and celebrated the incredible virtual assistants of New Zealand!
The night may not have been the in-person extravaganza we had originally planned, but boy-oh-boy – Plan B was pretty bloody impressive!
Watch the replay of the Awards here!
In this episode you'll learn:
How Kellie runs her thriving VA Agency.
Kellie's secrets to writing an award winning entry form.
Why even the most successful business women still feel unworthy at times.
Sam, Jo and Kellie's Award night highlights!
Connect with Kellie and the Released team:
Join the Members Club to fast track your VA journey with done-for-you templates, tutorials and support from us!
Sam + Jo xoxo
The Sam + Jo VA Show
THE must listen-to podcast for Virtual Assistants around the globe!
From competitors to friends to business partners ...
Having both independently grown and managed successful VA businesses for 16+ years combined, in 2019 VA coaches Jo Jensen and Samantha Browne joined forces to help other VAs grow their very own fully-booked businesses.
No matter where you are in your VA journey, whether you're just starting out or you've been in the biz for a while, The Sam + Jo VA Show podcast provides you the best insights, ideas and strategies so you too can grow a thriving, work-from-home, virtual business.
Learn from those that have not only been there, but they've done it (and continue to do it) successfully!
Looking for more clarity focus to grow your business? Access the best virtual assistant training & coaching for VAs around the globe at The VA Foundry