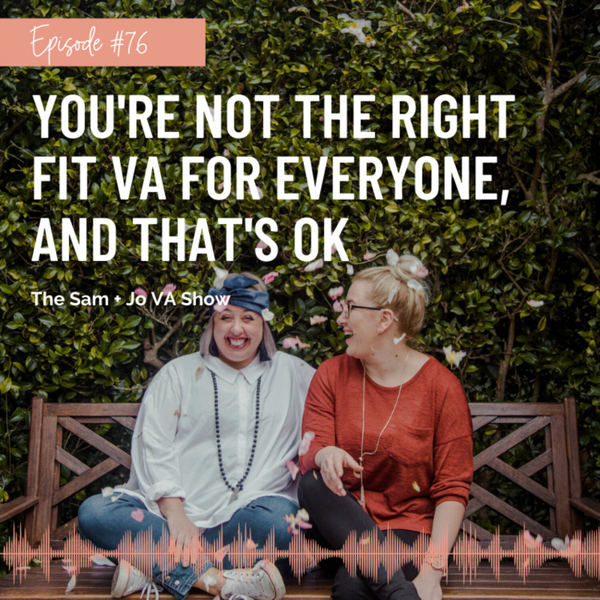 The Sam + Jo VA Show
#76 You're Not The Right Fit VA For Everyone And That's Ok
S1E76
19:30
October 26th 2021
Just like not every client is going to be the right-fit for you, you're not going to be the right-fit for every client you meet and/or work with.
You could be the highest performing, most professional, incredibly charming VA super-star around and there will still be clients that won't:
Book a consult with you.
Hire you.
Keep you on long-term.
Maybe the consultation was amazing and you thought you had it in the bag.
Perhaps you've been working with the client for a little while and you had a feeling it was coming.
Sometimes you don't see it coming at all.
Whatever the reason you can't take it personally. 
The fact of the matter is that in our line of work with every consultation you book, every project you take on and every client you sign up there is a risk of it simply not working out.
AND THAT'S OK!
In this episode you'll learn:
The reasons why you might not be the right fit for a client.
Why you can't take it personally when you're let go or not chosen.
How to learn from the experience.
What not to do when parting ways with a client.
Join the Members Club to fast track your VA journey with done-for-you templates, tutorials and support from us!
Sam + Jo xoxo
The Sam + Jo VA Show
THE must listen-to podcast for Virtual Assistants around the globe!
From competitors to friends to business partners ...
Having both independently grown and managed successful VA businesses for 16+ years combined, in 2019 VA coaches Jo Jensen and Samantha Browne joined forces to help other VAs grow their very own fully-booked businesses.
No matter where you are in your VA journey, whether you're just starting out or you've been in the biz for a while, The Sam + Jo VA Show podcast provides you the best insights, ideas and strategies so you too can grow a thriving, work-from-home, virtual business.
Learn from those that have not only been there, but they've done it (and continue to do it) successfully!
Looking for more clarity focus to grow your business? Access the best virtual assistant training & coaching for VAs around the globe at The VA Foundry