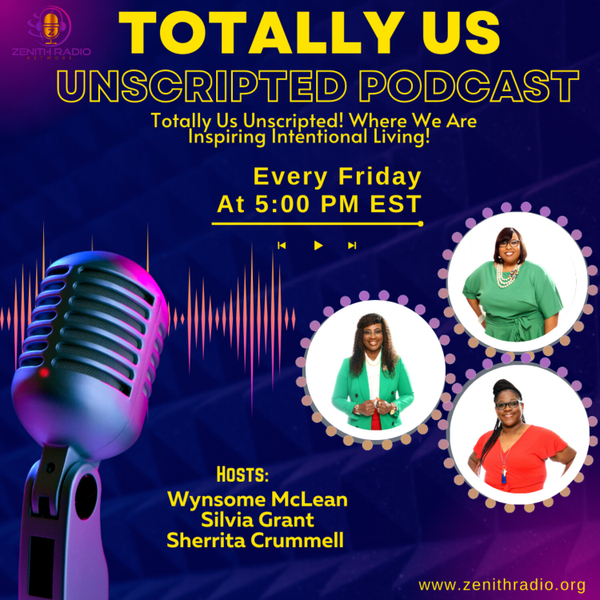 Totally Us Unscripted Podcast
Created by Totally Us Unscripted • 23 episodes
Totally Us Unscripted Podcast
Totally Us Unscripted! Where you get to experience 3 friends engaging in candid conversations on relationships, culture and holistic living. The show is sure to deliver humor, insight and a unique perspective on intentional friendships and sisterhood.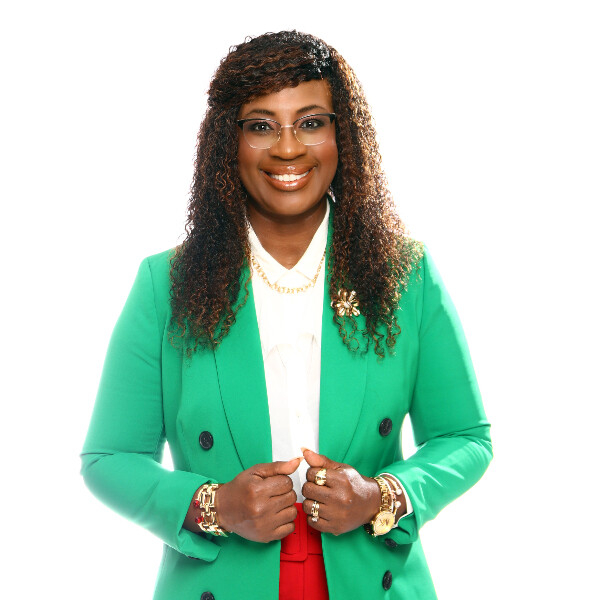 Wynsome McLean is a Licensed Marriage and Family Therapist in Florida and the Owner of Soul Care Institute, LLC., which provides creative and compassionate counseling services to individuals, couples, and families through interactive classes, seminars, retreats, facilitated discussions, and therapeutic interventions.
Wynsome earned her bachelor's degree in psychology from Georgia State University and a master's degree in Marriage and family therapy specializing in Couple Intimacy and Sexuality from Richmond Graduate University in Atlanta, Georgia. Wynsome McLean serves on the administrative team at the
Counseling and Psychological Center at Florida Atlantic University as the Assistant Director of Diversity, Equality, and Inclusion/Student Success.
Wynsome is an ordained Reverend in the Church of God of Cleveland, Tennessee, and faithfully serves as Co-Pastor of Bread of Life International Church of God alongside her husband, Bishop Harvey McLean.
Armed with an understanding of theology and psychology, Wynsome is uniquely positioned to assist others in obtaining multidimensional transformation in all areas of life. Wynsome boldly confronts complex topics in powerful seminars and conferences to tackle some of our day's most relevant and vastly ignored issues, such as depression, sexuality, marital discord, and sexual abuse.
In her book, "60 Day Soul Care Reflection Journal", she teaches individuals to develop practical strategies to overcome spiritual, emotional, and physical barriers. Wynsome McLean is also a co-author of A Praying Wife in Waiting and Boss Babes, who Pray II and III, and Walking Through Grief and Loss Coloring Book, Making her a 5-time published author and two-time Amazon bestseller author.
Wynsome is passionate about seeing a total transformation of the soul and realizing God's vision for all humanity.
Wynsome was named South Florida's Most Influential and Prominent Black Women in Business and Industry in 2020 for her work as Lead Therapist and CEO of Soul Care Institute LLC. This therapeutic counseling center offers individuals, couples, and families mental health services. Wynsome McLean also received the 2023 presidential lifetime achievement award for her domestic and international work.
A seasoned Soulologist, Licensed Therapist, Pastor, and Master of Business & Life Coach, Wynsome helps her clients leverage their past experiences, expertise, and excellence to create a purposeful existence.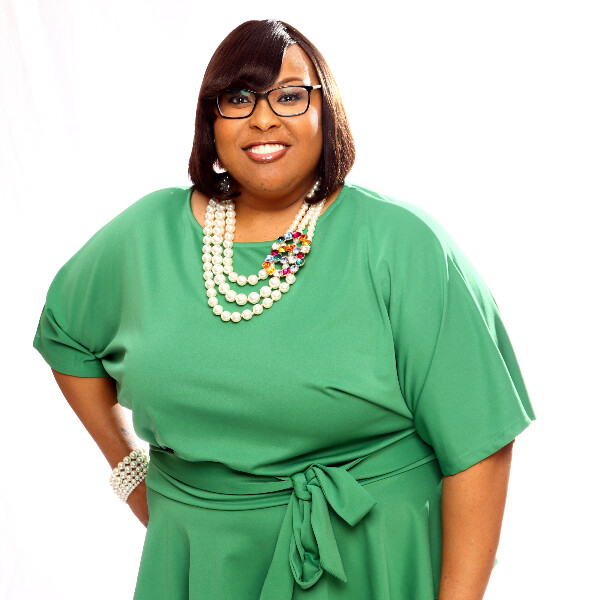 Silvia Grant is the owner and CEO of Matters of The Heart Solutions, LLC where she provides a solution focused approach for Coaching, Counseling and Consulting to individuals, groups, and organizations through one on one, group sessions, workshops, trainings, and psychotherapy facilitation. Ms. Grant is also the Founder & Executive Director of Priceless Pearls Youth Ambassadors, Inc. a program which helps middle & high school girl's deal with the difficult transition into adolescence, and the pressures of being a young teen. Her vision and mission are to "Transform Young Ladies into Model Citizens". Silvia's dedication to help young girls inspired her to launch this organization, as she and her team are continuing to foster love, friendship, and service, capturing girl's hearts.
While creating community and leadership opportunities for these young ladies, Silvia herself participates and has been recognized for many service endeavors. She volunteers her time tirelessly with various organizations and she loves to give back of her time and talents.
Silvia has received numerous awards and has been recognized for her many leadership qualities and servitude. She has been recognized as a notable leader in her community from the Bethune-Cookman University Alumni Association, she has been a recipient of The Treasured Pearl Award presented by The Zeta Tau Omega Chapter of Alpha Kappa Alpha Sorority, Incorporated, and she has received Guiding Principles awards for Honoring the Female Spirit and for Acting with Integrity & Positive Intent at the All About Girls Summit, held in Orlando, FL. Silvia was also nominated for The Everyday Hero Award with The Black Chamber of Commerce of Palm Beach County, recognized in a South Carolina Blog Series as a Hidden Figure in Palm Beach County, was acknowledged for her community efforts by the St. Paul African Methodist Episcopal Church and lastly received an award from the West Palm Beach Youth Recreation Association for her dedication and hard work in the community.
As she empowers and equip others to be successful, Silvia serves faithfully in ministry. Silvia is also a Life Member of the Bethune-Cookman College Alumni Association and a proud member of Alpha Kappa Alpha, Sorority Incorporated.
With her passion for education, Silvia graduated from Bethune-Cookman College, with a Bachelor of Arts degree in Speech Communications & Theater Arts. She then received her Master of Science degree in Psychological Studies (with a concentration in School Counseling) from Nova Southeastern University and became a Certified Life Coach through the Say Life! Coach Institute for Professional Coaching (International Coaching Federation Approved). Silvia affectionately, spends most of her time daily at Pace Center for Girls, Palm Beach, where she serves on the Counseling team, with the Social Service program, dedicated to the growth and expansion of young girls' academic and mental health based on a gender-responsive, strength-based and trauma informed framework. When she is not working, she participates in community activities and continues to motivate youth, teachers, and administrators on the importance of mentoring, leadership and giving back. In her spare time, Silvia enjoys traveling, spending time with her family and friends, volunteering, and inspiring others to discover their passions with a healthy heart.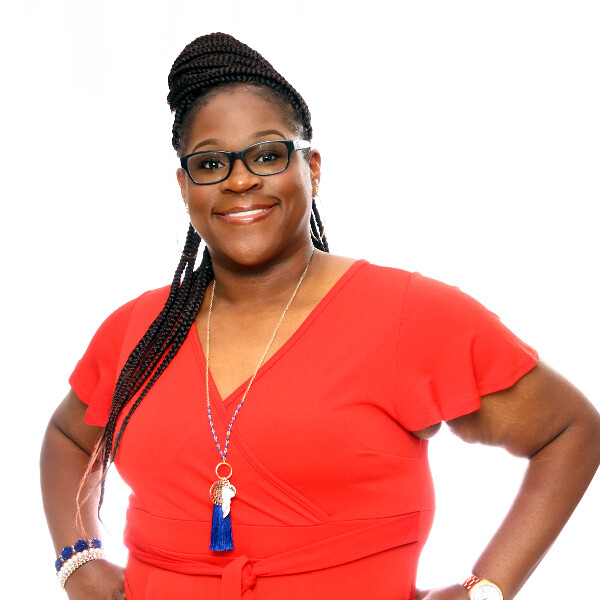 Sherrita Crummell
Co-Host
Sherrita D. Crummell is the owner and CEO of Platinum Legacy Productions, LLC, where she helps to inspire & organize creativity, specializing in project-production management, problem solving and strategic planning for events, musical endeavors, digital media, use of technology, studio production, booking management, and trainings. She is also the Chief Business Officer of Priceless Pearls Youth Ambassadors, Inc., where she is responsible for the administrative, financial and operations management of the organization.
As an advocate for education, Sherrita has been recognized as a passionate, student-and community centered educator continually seeking to improve learning and the school culture throughout the School District of Palm Beach County. Her professional and service portfolio includes work on managing elementary and secondary classroom effectiveness, study skills for at-risk students, and curriculum design and professional development for classroom teachers, as well as administrators. Sherrita has also help to assists with local educational grants and coordinated school and community-based projects through BLEND PBC Micro Grow Green, a prestigious FPL Schoolwide Generator Build Project and feed the homeless initiatives with her affiliate mentoring program.
Believing that service is a lifelong endorsement, Sherrita participates faithfully in ministry, giving back her time and talents as an ordained minister and is a proud member of Delta Sigma Theta Sorority, Inc.
Inspired to enhance student and professional learning, Sherrita attended Florida A&M University, where she graduated with a Bachelor of Science degree in Elementary Education. She then received her Master of Science degree in Curriculum and Instruction in Technology from Grand Canyon University. After serving 18 years as a highly effective classroom teacher, Sherrita became a Magnet Coordinator, which developed her into currently becoming a District Administrator & member of the Principal's Leadership Team at Dr. Mary McLeod Bethune Elementary School as the Single School Culture Coordinator. In this capacity, she designs and leads professional developments aligned to the school's improvement plan, supports teachers in the Educator Effectiveness cycle, models instructional practices and coordinates assessments. She also helps to assist school site personnel in counseling, programming, discipline, and supervision and transportation of students during extracurricular activities and field trips. Ultimately, building teachers and support staff capacity though educational coaching and professional development.
In her spare time, Sherrita truly loves spending time with family and friends, operating in ministry and enjoys overseeing long-term and short-term strategies of businesses, organizations, and ministry objectives, where she gets to develop and maintain relationships with community and business partners to increase brand awareness, while operating optimally and efficiently in her giftings and passions.