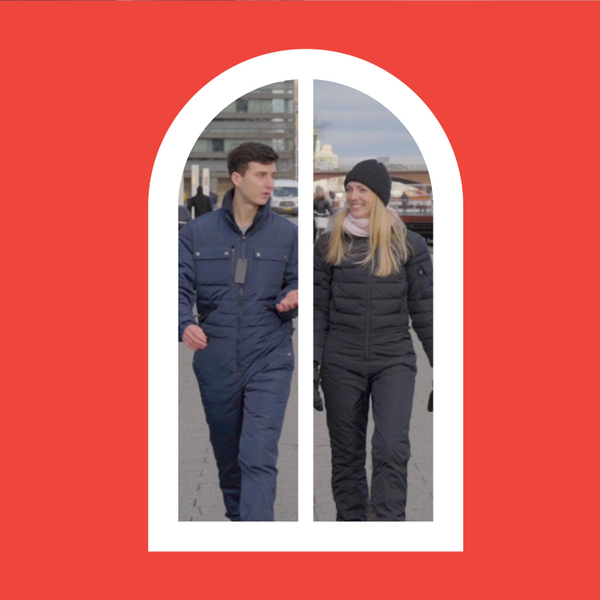 As winter approaches, you might spot an unusual sight on the streets of Denmark: fashionable people (mostly women) wearing an all-in-one ski suit worn predominantly by toddlers.
These ski suits (or rather "flight suits") have become a fashion trend in Denmark in recent years, and they show no signs of stopping.
Sam and Josefine discuss the past, present and future of this trend with lifestyle expert Julia Lahme, and what it says about Danish culture as a whole.
We discuss:
How flyverdragter are linked to the importance placed by Danes on fresh air
The history of flyverdragter - from shipyard apparel to fashion item
Why it is deemed a human right (kind of) for small children to have flyverdragter in Denmark
Flyverdragter in other countries, and how it is a growing export market
General fashion trends, especially as the Covid pandemic finishes
Find out more from Julia via: https://julialahme.dk/
Thanks to The Dalset for sharing flyverdragter we referenced in this episode, head to https://thedalset.com/ to see more of their flightsuits and how you can get one too.
Thanks also to Eco Hotels for hosting us in their Guldsmeden Hotel in Islands Brygge, Copenhagen. Learn more: https://guldsmedenhotels.com/
Learn more about What The Denmark via: www.whatthedenmark.com and @whatthedenmark on Instagram
What The Denmark | Danish Culture for Expats, Internationals and Danes
Danish culture can be pretty confusing, especially if you are not from Denmark.
This podcast is on a mission to resolve cultural confusion in the country.
Co-hosts Sam Floy (British podcaster, "The Outsider") and Josefine Volqvartz (Danish TV journalist, "The Insider") speak to experts and members of the public to understand and explain why something so normal in Danish culture is confusing to outsiders.
Rather than simply point fun, or say something like "Danes have an ironic sense of humour" we go deep, by speaking to experts to explain why.
Importantly, this show is as much for Danes as it is non-Danes.
What The Denmark is an educational, entertaining and inclusive show where we take a curious look at things that seem normal in Denmark, and get to the bottom of why.
If you've ever felt that you want to understand more about Denmark and Danish culture, then this is the podcast for you!
Learn more at https://www.whatthedenmark.com/