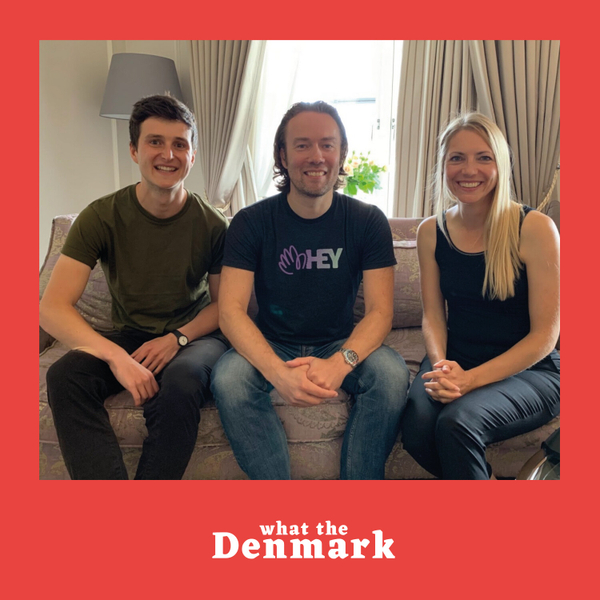 David Heinemeier Hansson is a tech entrepreneur and internationally successful racing driver. Anyone who has worked in computer programming will likely have come across Ruby on Rails. Well, David invented it.
David is the author of several business books with his American Basecamp business partner, Jason Fried including Rework, Remote and It Doesn't Have To Be Crazy at Work. He writes frequently about the importance of simplicity and work life balance in the working (and especially tech) world.
In this conversation, Josefine and Sam speak with David about his experiences working/ living in the US and now back in Denmark (where he grew up).
We cover:
How Denmark is a country made for kids compared the US
The American "enthusiasm for newness"
The Danish conservatism (both positives and negatives)
The effects of the lack of societal hierarchy in Denmark
How Basecamp's company philosophy is inherently shaped by David's Danish upbringing
What Denmark can learn from the world
What the world can learn from Denmark
Thank you to the wonderful Hotel d'Angleterre for hosting us for the recording. If you ever visit Copenhagen, try to go there.
Learn more about What The Denmark via:
www.whatthedenmark.com and @whatthedenmark on Instagram
What The Denmark | Danish Culture for Expats, Internationals and Danes
Danish culture can be pretty confusing, especially if you are not from Denmark.
This podcast is on a mission to resolve cultural confusion in the country.
Co-hosts Sam Floy (British podcaster, "The Outsider") and Josefine Volqvartz (Danish TV journalist, "The Insider") speak to experts and members of the public to understand and explain why something so normal in Danish culture is confusing to outsiders.
Rather than simply point fun, or say something like "Danes have an ironic sense of humour" we go deep, by speaking to experts to explain why.
Importantly, this show is as much for Danes as it is non-Danes.
What The Denmark is an educational, entertaining and inclusive show where we take a curious look at things that seem normal in Denmark, and get to the bottom of why.
If you've ever felt that you want to understand more about Denmark and Danish culture, then this is the podcast for you!
Learn more at https://www.whatthedenmark.com/