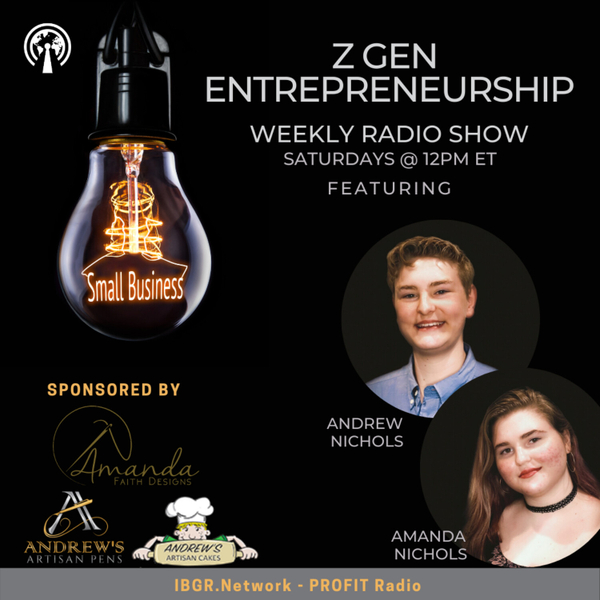 Z Gen Entrepreneurship
DOWNLOAD. LISTEN. ENGAGE.
Created by IBGR onAir Talent Andrew Nichols & Amanda Nichols • 32 episodes
Z Gen Entrepreneurship
Teen business owners and siblings, Amanda and Andrew Nichols share their journey to entrepreneurial success in the show Z Gen Entrepreneur.
Download the IBGR Business Growth Radio App for Android and iOS to catch the podcast onDemand and gain access to even more resources. Find the IBGR Business Growth Radio App on Google Play and in the Apple App Store.
Meet AMANDA NICHOLS
Amanda Faith Nichols is a 9th grader at Bridgeland High School. She took her first sewing class at 9 years old. She knew after that first day that she was plugged into her creative outlet. From then on, every time she went shopping she continually surrounded herself in fabrics and sewing supplies. Soon after this time her mom was diagnosed with Acute Lymphoblastic Leukemia and she poured her soul into her work. It helped her deal with and process her feelings.
Her next step was to build inventory for a local craft show and home show where she made money and realized she wanted to start a business - Amanda Faith Designs. Recently, she has incorporated her love for acting and sewing by designing and making costumes for theatre and hopes to sell some of her most popular products at her school during orientation and other school events.
Amanda is involved in the Ursa Theatre and Drama Club at Bridgeland High School and her church youth group. You can find her most days singing, baking and reading. She has been featured, along with her brother, in local community Magazines and newsletters for her work and entrepreneurial spirit. She desires to attend Savannah College of Art and Design and own an Interior Design business. You can follow her on Facebook and Instagram at Amanda Faith Designs. 
Meet ANDREW NICHOLS
Andrew Nichols is a born entrepreneur. He has two businesses. His first business, Andrew's Artisan Cakes he started at age nine after watching his mom make cakes for friends and family. His work has been featured on KPRC Channel 2, ABC 13 & You, CW39 NewsFix, Houston Life, and in the Houston Chronicle. 
His second business, Andrew's Artisan Pens he started in 7th grade when taking Concepts of Engineering and discovering he loved working with wood shop equipment. You can find his custom handmade pens at Kelly Wade Jewelers in the Alamo Heights of San Antonio. He has also done many large corporate orders for Houston executives and their teams. You can find both Andrew's Artisan Cakes and Andrew's Artisan Pens on the web and follow both businesses on Instagram.
Andrew is a Sophomore at Bridgeland High School and is involved in Math Honor Society, on the JV golf team, and is about to receive his Eagle Scout Award in Boy Scouts. In his free time, he loves attending church hanging out with friends, and talking about the stock market and latest financial trends. Recently, he was nominated for Student of the Year with the Leukemia and Lymphoma Society. He is starting to research colleges and hopes to study Engineering.